All of your adorable baby bumps linked up for Rockin' the Bump have given me baby fever! We have almost 200 linkers so far and the linky doesn't close until tonight. We got lots of attention, even getting a write up over on Babble!
If you haven't joined in, there is still time! And be sure to visit the other baby bump mamas- it's a great way to get to find new blogs to read!

Looking at all the belly pics made me pout a little and wished I could rock a new bump because:
1. I never did all the cute week-by-week or even month-by-month belly pics.
2. I never got professional preggo pics taken.
3. Pregnancy would give me a ton of new blog topics.
4. I could wear a bikini this summer and have people oooh and aw over my belly.
5. My maternity clothes are cuter than my regular clothes. Even though I've given most of them away.
6. Having another baby could even things up around here. If we had four kids, everyone would have a partner for the rides at an amusement park.
7. I love getting to hear the baby's heartbeat and feeling him(you know it would be another "him") move around.
8. It would be fun to try to Zumba with a big ol' bump.
9. Hubs treats me like a queen when I'm pregnant. I like being Queen.
10. I would totally tweet my labor.
But, then I remember:
My "baby" just turned 3 and is almost out of diapers. He's going to preschool, while the other two will be in full-day school for the first time this fall. OMG, there will be QUIET. And NO DIAPERS. Plus, Hubs manned up and had the big snip-snip two years ago.
So, no more babies for me.
But, I still have baby fever. Might as well roll with it!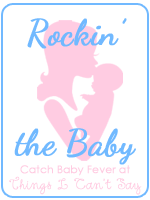 Button by Jess at Frilly Coconut
Link up a favorite baby pic… or favorite baby picS if you can't pick just one!
Not a mama yet? You can even share a baby pic of YOU if you want to join in. Or pics of a special baby in your life. Any adorable baby cuteness will do!
Linky will open at midnight ET on Monday, July 11 and close at 11:59pm on Monday, July 18th.
We will have sponsors for this next event, so there will be a chance for you to win some prizes, just by linking up! Hope you will join in and make this another fabulous event!