Jackie is a wife, mother of 4, project manager, writer, and social media consultant and to pull it all off it takes a bit of magic! And yes… she does have a magic wand! You can find her at With Just a Bit of Magic, on twitter as @JackieCross, facebook, instagram, pinterest, and google+.
I've read Things I Can't Say for a long time now and as a matter of fact it was one of the first blogs that I started reading. I'm not the best fan though because I don't always comment, but I'm there!
When Shell contacted me and asked if I'd like to post I immediately replied that I would love to. Here's the thing… I've always known what I would write if she ever asked and it's truly something that I can't say on my blog. I can't say it because I'm not sure who from my family reads it or not and what I have to say is likely to upset someone. I avoid confrontation as much as possible!
Through reading blog posts, Twitter, and Instagram I can see that so many of my online & real life friends have great relationships with their moms. Their moms are part of their everyday lives…. They call to see how the grandkids are doing, to check in on the little ones cold, to see how your job is going or for any other number of reasons. They visit because they love seeing their grandchildren and don't want to miss out on anything and of course they visit you because you are their child and they love you more than anything.
To say that I am jealous is an understatement.
I'm hurt.
I'm confused.
I'm lost.
Why? Because my mom is absent from my life and I don't know why. Yes, she does call on occasion but usually she needs something or has a technical question for us. Funny thing is that the last time she called was because she needed my sisters phone number so she could call and wish her a happy birthday. Not to say hi or see how we were doing. I didn't return the call.
My kids don't know their grandma and as a matter of fact she has only ever seen Andrew once in his entire life and that was when he was 5 months old… he just turned 2 ½ this month. He will never know his grandma.
I miss my mom. A lot, and it makes me upset and brings tears to my eyes that she isn't part of my life whenever I think about it. Writing this is so hard too… I am literally pouring my heart out and holding back the tears as best as I can.
I don't know how to fix it or how to even talk to her about it. Even though it's the one thing that I want more than anything.
To make it more difficult she moved out of the state and decided to make Arizona her home while she drives semi-trucks back & forth across the country with her boyfriend [of the last 6 or 7 years].
I want to be able to call my mom and see if she wants to have lunch with me on Saturday.
I want to ask if she'd take the kids for an hour or two just so I can get some cleaning done around the house.
I want her to come to the kids sporting events, school plays, and concerts and see the look of pride on her face as she watches her grandkids.
I want to be able to talk to her when I need advice.
I don't want to wonder if there was something that I said or did to cause this separation.
I don't want to have to answer the questions from my kids as to why grandma isn't around ever.
The other day I shared a picture of my son on Facebook through Instagram and she commented on that picture (because that's how she knows what's going on in our lives…. Facebook). She said that he was a handsome little man… That comment & that she "Liked" the picture just pissed me off. How could she just slip in and out like that and think that trying to keep up through Facebook counts as a relationship??? It doesn't…. it's Facebook stalking.
I've talked to my sister about this at length time and again and neither of us has come to any sort of conclusion as to why she is this way. The best thing that my sister has been able to say is, 'It's just the way she is and we'll have to accept it'
I don't accept that. How as a mother do you just move ahead with your life practically forgetting that you have 3 children and 8 grandchildren who want you in their lives? Who need you in their lives.
There's an old say that we don't always get what we want. I believe that is true in this case and eventually I will have to fully accept it, but for now I am holding on to the fraying thread that she will come around and fully be part of our lives again.
There is one good thing…. I have a step-mom who by all means is my mom and has been for the past 25+ years. She is grandma 100% to my kids and always will be no matter what. She is the one that is there for me when I need someone, when the kids need someone, and who I can count on.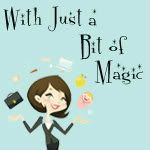 Please leave Jackie some comment love here and then go follow With Just a Bit of Magic if you don't already!