Life is full of Magic Moments.
Some big, life altering moments like a wedding or the birth of a baby. And some smaller moments that we never want to forget: first steps, first day of school, a new job, a vacation, a quiet moment, the list goes on and on. A Magic Moment is a moment you are so happy to have captured on camera.
From now thru 9/19, you can link up your Magic Moment(s). Grab the button below, create a post, and link up! Visit other linkers to share their moments. Four winners will be selected randomly from those who submit a valid entry. Find out prize details below my own Magic Moments.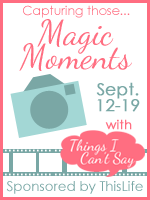 Button by
The Frilly Coconut
Our Wedding Day
A New Baby
A Birthday
A Vacation
A Snowy NC Beach Day
A Quiet Walk