I could not wait to announce the next monthly photo linky. Because of a topic that everyone can find a picture for AND because of the amazing prizes! In fact, if you "like," Things I Can't Say on facebook, you already know some of this because I spilled part of the details over there this past weekend!
A few weeks ago, I shared my
Magic Moment
with you. For me, it was a moment when my boys were acting like the best of friends. No fighting. It was so sweet.
But, a Magic Moment could be anything, really: from big, life-changing events like getting married or having a baby to the small moments like a child's smile or a fun party or a pretty sunset.

Some of my recent Magic Moments: brotherly love, a quiet moment, and the first day of school.
Everyone has a Magic Moment. Starting on Monday, September 12 thru Monday, September 19th, you can share yours!
To participate: Create a post sharing your Magic Moment(s), grab the button below, and link up! Linky will open at 12:01am 9/12 and close 11:59pm 9/19 (ET). Pics submitted should be ones that you have permission to post. Please do not use images you googled or took from someone else- big no, no, y'all.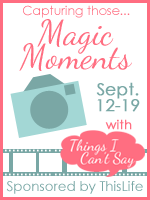 Button by The Frilly Coconut
Now, for the prizes! Our sponsor for this event is ThisLife, which keeps all of your photos and videos safe and organized for you! You can try it out for yourself and download a 6 month free trial of ThisLife. You can also like ThisLife on facebook and follow them on twitter.
The prizes from ThisLife will help you to capture even more of those Magic Moments. Winners will be selected randomly from those who submit a valid entry.
Runner- up Prizes: Three participants will win a $50 Visa card to help you have more of those Magic Moments!
Grand Prize: One grand prize winner will win a Canon Power Shot s95 (approx. value $375-400) to capture even more of those moments!
I cannot wait to see all of your Magic Moments! Thanks to ThisLife for such great prizes!