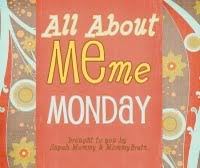 The scariest thing that has ever happened to me does not involve ghosts, goblins, or any other creature from the darkside.
It started out innocently enough.
Three moms, hanging out at a park in the middle of nowhere with their five children. Me, massively pregnant(2 weeks from giving birth to my 3rd baby) and taking care of Bear(about to turn 2) and Monkey(3.5).
Monkey was playing with his friends, while Bear happily played on the bleachers.
Lots of talk between the moms.
Suddenly…
WHERE DID BEAR GO??????
No real panic at first.
There are lots of places for him to be.
on the baseball field.
Over on the playground.
By the bathrooms.
On the football field.
Near the picnic pavillions.
Trying to get into my truck.
Somewhere.
He was right there.
We were all maybe 10 feet away from where he was playing.
None of us saw him leave.
He has to be here somewhere.
We corralled the other kids and started to call for him…a child who is almost nonverbal.
We look everywhere.
We can't see him anywhere.
Panic creeps into my voice and the baby in my belly starts frantically kicking in empathy.
A car comes down the deserted road, driving slowly.
I make a mad dash towards it. Maybe they've seen my son.
Maybe they took my son.
Oh, God, let my baby boy be okay.
Calls for him become more and more frantic.
We discover what is beyond the cluster of trees that border the park.
A rapidly rushing river.
Panic.
Bear, who has no fear of water.
Oh, dear Lord, don't let him be in the river.
Let him be okay.
Don't let me lose my little boy, 3 days before his second birthday.
Where is my Bear?
Heart, keep beating.
Baby in my belly, stay there. Mommy will calm down soon, just as soon as she finds your brother.
The world is starting to spin.
My friends, calling for me to calm down, that we will find him. Calm down, think of the baby, now is not the time to go into labor.
How could I have lost him?
I was right there, how is it possible that I didn't see him leave?
"I FOUND HIM!" comes a yell from one of the other moms.
He somehow managed to open and close the gate to the ballfield, tricking us into thinking he couldn't have gone that way. He was behind the concession stand, where we couldn't see…about 20 feet away from the rushing river.
A year and half later and my heart still pounds, thinking about that day.
I have not returned to that park since then.
Not that it is the park's fault.
But, I don't think I could return without having a panic attack from the memory.