If you have never visited Pour Your Heart Out before, see THIS post for more information- but it's personal- it's what YOU think is pouring your heart out. Please grab the PYHO button or link back in your post if you are participating.
Again, just a brief reminder that everyone linking is pouring their hearts out and we should all be respectful in our comments. 😉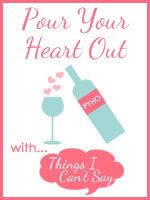 My middle son, my Bear, turned 5 on Saturday. It's a big milestone. Five means no more baby.
Bear was SO EXCITED for his birthday. It was all he could talk about for days.
But, one day I heard him saying "I'm five, I'm five, I don't need Mom to help me."
WHAT? You don't need Mommy any more????
Bear heaved a big sigh and informed me that he was practicing. I dug around and found a note from his preschool- there was a poem that they are supposed to practice for their end of the year program called "I'm Five."
One of Bear's practices (right after bathtime- and yes, he does have on clothes):

In case you do not speak Bear:
I'm five, I'm five, I'm a big kid now, I'm five!
I can dress myself. I don't need Mom to help me anymore:
And when I sit in my dad's chair,
My feet can touch the floor (well, almost)
I'm five, I'm five, I'm a big kid now, I'm five!
My mother doesnt' scold me just for going without a hat!
She knows good and well, I'm too old for that!
What? Does she think I'm three?
Huh? Not me!
What? Does she think I'm four?
I'm more than four!
I'm even more than four and a half!
I'm FIVE! (well, almost)
How cute is that?
Except that I don't like to think about my Bear being so grown up that he doesn't need his mama. He'll always need me, right?
Just not like he did back then:
It's such a bittersweet mama moment, his 5th birthday. But since he just told me "I love you in my heart, Mom," I think I'll try to focus on the sweet.