Welcome to Pour Your Heart Out- if you need more info on how to participate, check out
THIS
post. But it's personal- it's what YOU think is pouring your heart out. Please grab the PYHO button or link back in your post if you are participating.
Again, just a brief reminder that everyone linking is pouring their hearts out and we should all be respectful in our comments. 😉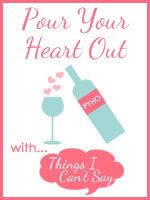 Hey y'all! I have family arriving today. I will be around to read all the PYHO links and to visit all commenters, but you'll have to forgive me if it takes a little longer than usual this week
!
This is a crazy week at my house. Well, I should say a crazier-than-usual week at our house. It's always a little crazy here. But, we have even more going on here than normal.
When it came time for Pour Your Heart Out, I looked in my drafts and thought yesssssss! I have one already done and I can use that one and be done with it. And there was nothing wrong with that post. In fact, I'm positive that I will post it at some point.
But, after spending yesterday morning in tears and yet having my post have absolutely nothing to do with what had me so upset, I felt like a PYHO fraud.
So, back into drafts that other post went.
And instead, I'll share what had me so upset. What has me so upset.
It's my Bear, headed to school this fall.
Now, wait, before you roll your eyes at yet another "my baby is starting school and I'm so sad" post, this is different.
My oldest started Kindergarten last year. And while I did the typical mom-worry over him about the little things, I also knew he would be fine and practically didn't bring the van to a complete stop as I kicked him out of his seat by the third day of school. Okay, I came to a complete stop. Otherwise, the van door doesn't open. Lucky for him.


But, this is my Bear heading off to school. It's not the same for him.
It's not the typical worries of a kindergarten mom. He has so much more that he has to deal with.
And while I thought we had settled on a school for him, after talking to the director again yesterday morning, I was left feeling completely unsettled. Feeling that this was not the right choice for him at all.
There is a school that I do think would be best for him, but it is not a possibility right now. And yes, we have tried everything.
And I was left feeling worried and scared for my Bear. I don't want him to end up lost in the shuffle. I want him to be somewhere that will embrace his uniqueness and yet help him find his way in the classroom.
I don't know what the solution is. And that leaves me feeling even worse.
Moms are supposed to have the answers, aren't we? We're supposed to know how to make it all better.
And right now, I don't. I don't have a clue how to help my Bear.




If you are linking up, please visit the linker above and below you. You can always visit more, too!