Last week was a hard week. Kick my ass.  Was thankful for big, dark sunglasses to hide my pathetic, crying eyes.
Things have been really rough for my 5 year-old and then rough on me because I have done everything within my power to help him and nothing has worked.
Whether all his behavior issues are a direct effect of the lead poisoning or if he would have been dealing with some of this anyway, we'll probably never know.  We're going through an in-depth evalution process in the hopes of getting him some help.
But, in the meantime: he's home with me for the month of December. We were going to need to find a new school for him in January anyway and when I looked at all the special activities that would be going on at school this month, along with knowing the school was basically over trying to help him, I figured it wasn't worth it to even try to send him for the two weeks of school in December.
I don't know exactly what we'll do with him come January, either.
It's left me frustrated, heartbroken, and pissed off.
Because shouldn't someone be able to help him? Shouldn't I be able to help him?
Our hope at this point is to get a label for him, aside from the lead-poisoning. Slap a whole alphabet soup of labels on him- if it will get him the help that he needs so that he can successfully attend school.
One-on-one, he is a total sweetheart: a smile that can melt your heart, the way he is so loving.
But, he gets way too overwhelmed in group situations.
He wants to be there. He wants to have friends.
But, it's just so damn hard for him.
I want to help him. And yet- I feel like there isn't anything else left for me to do at this point: it's just a waiting game right now.
If I felt like any progress was being made to help him, even if there was a long way to go, I'd feel better. But, it feels like nothing helps, like no one is helping. No matter what I do, it's not helping.
Well, you're doing all you can, a friend tried to reassure me.
But, what happens when doing all I can doesn't do anything to help my son?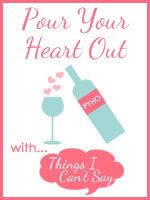 Click to find out how to join us each week for Pour Your Heart Out. Remember that it is about what is important to you. We do ask that all commenters be sensitive to this and be respectful in their comments as they visit the linkers. Please grab the Pour Your Heart Out button from my sidebar and then link up your #PYHO below.