Psst: If Blogger is still being difficult with comments, here's a way around it! When you go to comment, select "name/url" when you are chosing "comment as."
Welcome to Pour Your Heart Out- if you need more info on how to participate, check out THIS post. But it's personal- it's what YOU think is pouring your heart out. Please grab the PYHO button or link back in your post if you are participating.
Again, just a brief reminder that everyone linking is pouring their hearts out and we should all be respectful in our comments. 😉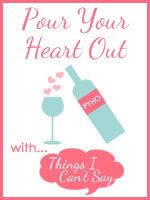 I want to vent about how some people judge a child without having any idea of what that child is going through. How they make comments or stare at a child, assuming they are just acting out and that the child is bad or that the parents need to do a better job at parenting and then the child wouldn't act like that.
I want to remind people that they never really know what is going on. How they might think a certain behavior is acting out, but really, it's something that a child can't help.
But, I know that y'all will tell me that such people don't matter. To ignore them because they don't mean anything.
And, in my head, I KNOW this. I know that those people don't matter. I know that they don't have a clue what sort of difficulties my Bear has. I know I should say say screw them and just focus on what an amazing little guy my Bear is.
Because my Bear is amazing. I love him. I love him fiercely.
But, do you know what?
Sometimes I just want to stamp my feet and yell and scream that it's not fair.
I want to slap someone who says something judgmental about my child.
I want to shake someone who dares to stare at my child when he's doing something that he can't help.
Part of me wants to try to explain it away. To make them understand that he can't help it. To watch their expressions when they realize that maybe they judged too quickly.
But, then again- I don't owe any of those people an explanation.
Not even a little bit.
It's not their business.
What good would it do to explain? So that they can then nod their heads knowingly, give me a look of pity and superiority, and then rush to gossip with the other moms?
I don't freaking think so.
So instead, I take a deep breath.
I focus on my child until everyone else is blurred away.
And I see his huge smile.
I feel his arms wrapped tightly around me.
I hear him whisper "I love you in my heart, Mom."
And I realize that HE is the one who matters.
And that those who don't take the time to get to know him- it's their loss.