If you need more info about Pour Your Heart Out, see
THIS
post.
But, really, it's anything that YOU consider pouring your heart out.
Please grab the button for your post and link up!
Be sure to check out some of the links- you will find some amazing stories out there.
Again, just a brief reminder that everyone linking is pouring their hearts out and we should all be respectful in our comments. 😉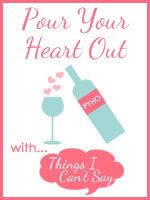 When I was in high school and college, I kept journals. I wrote down all the things that were happening and my thoughts on life. Stop laughing.
When I was packing to move away from home for my first teaching job, I actually threw out my high school journals. If I remember correctly, it was a dramatic gesture on my part that I was leaving the past behind me. Or my behind in the past. Whichever. Thank you, Lion King.
But, I kept my college journal.
Most of it is pure drivel. And I can see now, looking back, how I should have done things differently. How plain it is to see now. I want to go back in time and say to myself "Reread what you just wrote and THINK about it!"
Mostly, it was good for a few laughs at myself as I skimmed it the other night.
But, I found this entry, written on May 15, 1999, when I was a senior in college, that is my 21 year-old self pouring her heart out. And so, that's what I'm sharing with you today. Unedited- except for the spacing. Because no one want to read a big block of text.
I'm writing this not because I'm in an especially good mood or even an especially bad one.
I'm writing for later times, when I will feel hopeless.
Because now, I have hope.
I don't know what the future holds.
I have no idea how my life will change.
But, I take comfort in the fact that it will change.
That I can never predict what will happen, but that everything happens for a reason.
What seems impossible today will seem silly later.
I have to have confidence in myself and faith that everything will be alright.
Because things can always get better.
I need to remember to have hope.
Start thinking about the Cutest Pet Contest coming next week!