If you have never visited Pour Your Heart Out before, see
THIS
post for more information- but it's personal- it's what YOU think is pouring your heart out. Please grab the PYHO button or link back in your post if you are participating.
Again, just a brief reminder that everyone linking is pouring their hearts out and we should all be respectful in our comments. 😉
Also, the linky is what you make of it- if you link up a Pour Your Heart Out post, please make an effort to visit some of the other linkers. And even if you don't link up, visit a link or two to find some new blogs to read! Tips to make the most of a linky.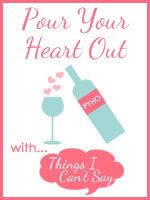 By the end of the day, I just want to be left alone.
Maybe not every day, but a lot of them.
Running here, running there. Working, taking care of the kids, taking care of the house.
I'm tired and cranky.
Bedtime is not a sweet event. It's rushed and routine, to get the kids in bed quickly so that this mama can get a break.
Let out a big sigh of relief that another day is done and I can sit down.
But, then, I get precious reminders of exactly what is going on around me. Exactly what I might be missing by rushing through my days too much.
My oldest puts off going to bed by insisting on giving me just one more kiss goodnight and asking for me to sit beside him and read him a story.
My youngest wakes up from a nighmare, crying. He gives me what he calls a "squeeeeeze," which is an extra cuddly hug.
My middle son makes his way down to our room in the middle of the night and wants to sleep in our bed, while making sure that he is holding my hand.
At the end of a long day, I could look at these things as annoyances. Can't a mama get a break?
But, then I take a good look at my boys.
My oldest is getting so big. How much longer will he want to kiss his mama and cuddle up with me on the couch to read a book?
My "baby" will soon be three. He's so independent. He wants to do all the things his big brothers do.
And how much longer can I have a sweet little boy holding my hand, all snuggled up in bed? How long until that is just not cool any more?
My boys are all growing up so fast. These moments aren't going to last forever. By the time they are all teenagers, they'll still love their mama of course they will but they won't need me in the same little boy ways that they do now.
So, I'll put aside my end-of-the-day crankiness and smile at those little faces and welcome those small arms reaching for me.