We are coming up on ONE YEAR of Pour Your Heart Out! Trying to get some fun things planned for the anniversary. If you are interested in donating a prize, please let me know.
If you need more info about Pour Your Heart Out, see THIS post.
But, really, it's anything that YOU consider pouring your heart out.
Be sure to check out some of the links- you will find some amazing stories out there.
Again, just a brief reminder that everyone linking is pouring their hearts out and we should all be respectful in our comments. 😉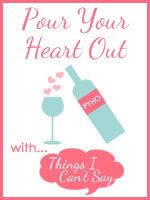 My boys are getting older. In September, I will have a first grader, a kindergartener, and a preschooler. There will be times during the week when ALL of them are in school at the same time.
Yippeeeeeeeee! I can take a shower without worrying about someone getting superglue on the couch or cutting each other's hair. I can go to the grocery store without a child asking for treats. I can go to the gym without worry that I'll be called out of class due to a babysitting room mishap.
I can read blogs without mommy guilt.
Or, you know: do laundry, clean the house, etc.
Because we're moving away from the baby days. Onward to school days.
There are still two and a half years until all of my boys are in school full-time, but I can see it coming. A totally different way of life.
In some ways, it's exciting. Our boys getting older, more independent, doing new things.
We made the decision to be done having children. Snip, snip.
But, every once in a while, I see a little baby….and I get an ache. And yes, it happens when I see a baby boy OR a baby girl.
I miss those days of a tiny little baby curled asleep in my arms, sighing those adorable baby sighs. A baby small enough to cuddle, to carry, to fit their little heads right underneath my chin as they are held in my lap.
Instead, I have a 6 year old whose feet are almost as big as mine. A 4 year old who insists that he can do everything on his own. A 2 year old who insists he's already 3.
They are growing up. It's a proud mama moment…. but it's also a sad mama moment.
I sometimes gaze a little too long at the sweet little babies I see. With too much longing in my eyes.
Because it's hard to move on to a different stage of life, even when you think you are ready to move on…. knowing you can't go back.