If you have never visited Pour Your Heart Out before, see
THIS
post for more information- but it's personal- it's what YOU think is pouring your heart out. Please grab the PYHO button or link back in your post if you are participating.
Again, just a brief reminder that everyone linking is pouring their hearts out and we should all be respectful in our comments. 😉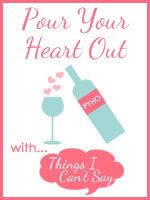 My boys are still on Spring Break: we are up to three pukers and one seat belt that had to be cut to release a child. So, today, my friend Ashley from Just Another Mom of 2 was kind enough to write a guest PYHO post. I used to say that she was one of my best blog friends… but now I just say that she's one of my best friends. I know you'll love this post from her: and yes, she talks about herself in third person occasionally, just like I have a tendency to do sometimes.
One step at a time.
Nervous excitement consumed her. She had decided a few weeks ago that she wanted a change, a new place to experience. So she picked one, made the arrangements and was ready to leave… until the night she went to her friend's going away party and met him. Now here she was, in a coffee shop with At Last echoing in the speakers, explaining to her friend that yes, she might be crazy but it felt right. She would stay and see what happened.
One step at a time.
Shocked by the life-altering stick she held in front of her, she sank to the ground. Steeled against almost anything, this was the one thing she had not expected. Shaken to her very core, she burst into tears. She had plans, they had plans, this was not supposed to be what happened next. When the door opened, she looked up at him and sobbed once again. He sank down next to her, gathered her in his arms, and told her that he loved her. Confident and sure, he knew what to do next.
One step at a time.
Feeling alone and trying to be a new mom, she hated this place. She missed the warmth of the south, the familiarity of her house, the comfort of friends. She resented the place, despised the weather, and just wanted to go home. Months of frustration poured out of her as she once again found herself sobbing. He assured her they would make it through this.
One step at a time.
Filled with all-consuming fear, she gripped his hands as they waited for an update. Confined by needles and machines, strapped into place with monitors, they listened to their baby girl's heartbeat thump along. Only 33 weeks along, the doctors were doing everything they could to avoid having to deliver this baby. Sheer terror like nothing she had never known filled her as she looked into his eyes. He told her to rest and they would get through this.
One step at a time.
She walked through the lobby doors, her heels clicking against the marble floor. A child on each hand, they checked their coats and greeted the host. With a smile, he led them to their table, overlooking resplendent mountains and streaming water. Settling the kids, the host turned as he saw the other man approach. He told him that he had a beautiful family and wished them a happy anniversary. To which the man replied "thank you and to many more".
One step at a time.


If you are not already, please go follow Ashley at Another Mom of 2.