If you need more info about Pour Your Heart Out, see
THIS
post.
But, really, it's anything that YOU consider pouring your heart out.
Please grab the button for your post and link up!
This is the 13th week of Pour Your Heart Out and I've been amazed, inspired, and heartbroken over some of the posts that have been shared. I feel like I know you so much better after reading the posts that you chose to link. Even if you do not participate, try to find some time to visit some of the linkers-you'll find some truly amazing stories out there, along with some new blogs to follow.
Again, just a brief reminder that everyone linking is pouring their hearts out and we should all be respectful in our comments. 😉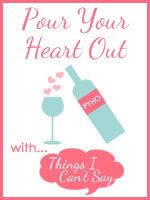 I told you on Monday how I cried like a baby at Monkey's preschool graduation because his teacher set their year-end slide show to "Let Them Be Little" and how it made me sad because I didn't let Monkey be little- and I told you that I'd explain today.
I look at my youngest child, who just turned 2.
And he's SUCH a baby still.
Yet….
When Monkey was that age, I expected him to act more like a big boy than a baby.
Bear was 6 months old then, so Monkey had to play the role of a big brother.
Sit nicely beside Mommy and read a book while Mommy feeds the baby.
Stand and wait beside Mommy while Mommy gets Bear out of his car seat.
Okay- really, just don't squirm out from where I have you wedged in between my body and the truck as I get Bear out…but it's still so much more than I expect of Cub at this point. I still carry him places most of the time.
Monkey didn't get carried any more at that age unless there was another adult along…actually, not since he was 17 months old and Bear was born.
He was mommy's helper and just seemed so much older than he was.
Monkey is the child who is most like me. And so we butt heads a lot. I know he knows better. He'll even sigh and tell me "I know that, Mom." So, that's just another reason not to treat him like a baby.
When he was even younger than Cub is now, he could hold whole conversations with you. I guess I understand now why people would be amazed at this. Back then, it was just normal for him and with him being my first, I didn't know anything different.
I have written in his baby book for 2 years-old(um, yeah, I kept up with that stuff back then…Cub doesn't even have a baby book, let alone an updated one…), that Monkey kept telling me shortly before his second birthday, "Mommy, let's go to Giant Eagle to get my Blue's Clues cake for my birthday party at Grammy's house."
Yes, exactly like that. With the "to"s and everything. Like a little grown-up. I would probably freak out if Cub were to talk to me like that right now because it's so not normal.
And I think that him being able to communicate like that was just another reason not to treat him like a baby. Most of his friends were a year or even two older than he was and he didn't stand out as being the baby of the group, other that a little bit size-wise. And that only added to the illusion that he wasn't a baby any more.
I don't regret having my children as close in age as I did- because I love my boys- but it does make me a little sad that Monkey didn't get as much time to be a baby as Bear did. And with Bear getting sick when he was younger, he was still babied even though Cub was around. And Cub will always be the baby.
Just another thing to add to the never-ending list of Mommy Guilt. I'm sure later today I'll be feeling guilty about how he gets more of something than his brothers do, so maybe it all evens out….but, I still regret not letting him be little.
And yes, I know that there's still time to let him be little. But, now, he's convinced that he's a big boy and doesn't let me baby him.