If you need more info about Pour Your Heart Out, see
THIS
post.
But, really, it's anything that YOU consider pouring your heart out.
Be sure to check out some of the links- you will find some amazing stories out there.
Again, just a brief reminder that everyone linking is pouring their hearts out and we should all be respectful in our comments. 😉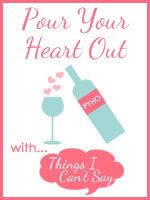 My Pour Your Heart Out today is inspired by the opening keynote at Blissdom. Thanks again to my sponsor
LeadCheck
for sending me to the conference.
I had the pleasure of listening to Brene Brown's opening keynote at Blissdom. There were three quotes that really stuck out to me and resonated with me. I think everyone who heard her speech felt much the same way. So, here are those three quotes and my thoughts on them.
Our stories matter because we matter- Brene Brown.
What are we really doing with our blogs, anyway? Putting our stories out there? Why would someone want to read that? Well, it's because WE MATTER. And because we matter, our stories do, too.
Know that you matter. Don't ever think that sharing your story doesn't matter. It does. Share it.
When you say you don't care what people think, and mean it, you have lost the ability to connect.- Brene Brown
I'm pretty confident in my own skin. This is me, this is who I am. But, we're not talking about being confident and not changing to fit an expected mold. It's more not giving a damn whom you offend or what others might think. If you really don't care at all about others, how can you connect?
You can still be you, but you still have to care about what others think. And if you don't care what others think, why should they care about what you think?
Delete the negative. This is my space and you don't get to be here. -Brene Brown
There is a difference between someone disagreeing with you and someone attacking you. I'm opinionated. I respect the fact that not everyone is going to agree with everything that I say. In fact, I'd be pretty shocked if no one ever disagreed with me some of the time. That's all well and good- I like a discussion.
But, it is NOT okay to attack personally because of those differences. And we all have a right to say HEY! This is MY space and you don't get to be here.
It's not a right that anyone has to come into our space(whether that is on our blogs or in real life) and insult us. We do not have to put up with that. We can DELETE(or whatever the IRL equivalent is).
Brene Brown was just one of the many inspiring women of Blissdom. If you are wondering if you should go next year, the answer is YES, you should.