Welcome to Pour Your Heart Out- if you need more info on how to participate, check out
THIS
post. But it's personal- it's what YOU think is pouring your heart out. Please grab the PYHO button or link back in your post if you are participating.
Again, just a brief reminder that everyone linking is pouring their hearts out and we should all be respectful in our comments. 😉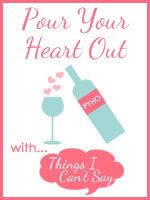 Sometimes people get the wrong idea about who I am. I am not sure exactly where they get their ideas from. But, I guess we're all guilty of making assumptions about someone based on one small thing instead of the bigger picture.
Usually it's in a flattering way: people who think that I'm capable of doing much more than I actually can. Or who think that I somehow manage to do it all. I don't… and not by a long shot.
Sometimes it's in a not so flattering way, but it's my blog and I don't feel like addressing those certain people. So I'm choosing not to. My blog, my rules. Yes, I love that about blogging.
I can't do it all and I don't quite know what to do about the unrealistic expectations that are sometimes put on me.
Because I'm just me.
I'm silly.
I get cranky when I'm tired or hungry.
I don't have much tolerance for mean people.
I get hurt by rude things that are said.
I'm fiercely loyal.
I want to believe the best in people.
I'm devastated when someone betrays me.
I'm quiet until you get to know me.
I like wine and fruity drinks.
I sometimes say things I shouldn't after having a few too many of those drinks.
I cry easily.
I get hurt easily.
I can be quite skeptical.
I believe in miracles.
I can be a total contradiction.
I need quiet sometimes.
I need a friend to be there for me.
I wish I could do better at almost everything.
I am an awful dancer.
I suck at keeping up with housework.
I love books.
I love naps.
I don't know what I'm doing most of the time.
I always make a weird face when I get my picture taken.
I live in flip flops.
I say I don't care sometimes, just to protect myself.
I laugh when I want to cry.
I miss home, even though I'm not really sure where that is.
I love my boys. I love my husband. I love God.
I'm just me.
And all I can do is the best that I can.
I know that's disappointing to some people sometimes.
But, I don't know how to be anything other than just me.
Several of you suggested I link this up to Just Be Enough. So, I'm taking your advice!