Welcome to Pour Your Heart Out- if you need more info on how to participate, check out
THIS
post.
But it's personal- it's what YOU think is pouring your heart out. Please grab the PYHO button or link back in your post if you are participating.
Again, just a brief reminder that everyone linking is pouring their hearts out and we should all be respectful in our comments. 😉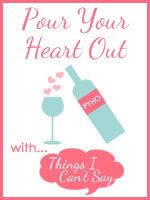 Last week, I shared with you just how overwhelmed I've been feeling lately. And as much as I'd love to pretend that everything is just fine now… and completely change the subject… that wouldn't be very honest. And I'm nothing if not honest on here. Even when it sometimes hurts.
Besides, you were all so supportive that I want to share with you how I'm getting through now.
I remind myself to take deep breaths.
Because deep breaths calm me and remind me I am breathing.
I cuddle my kids.
Because there is healing power in a child's hug.
I workout at the gym.
Because I focus on that and nothing else in that moment.
I have a glass of wine.
Because it helps to relax me.
I skype with a friend.
Because she reminds me that life can be good.
I read a sad book.
Because it gives me permission to sob.
I listen to a happy song.
Because it distracts me and makes me laugh.
I sleep.
Because rest is good.
I blog.
Because you make me feel not as alone.
I sit out in the sunshine.
Because it warms me.
I sit out under the stars.
Because the silence calms me.
I take some more deep breaths.
Because I know I can get through this.