I cried this morning because I burned the scrambled eggs I was making for my husband's breakfast.
I burned them because I was trying to do too much all at once.
Get three kids dressed, find their shoes, their backpacks, their lunchboxes.
Search the van for a missing backpack.
The van that is a mess, like everything else seems to be.
Because I just can't get on top of anything these days.
There's so much running around.
Even though I don't actually accomplish anything.
Just a never-ending cycle.
This one to school, that one to school, the other to therapy appointments.
Explain why one doesn't have school, even though he really wants to go.
Know that I need to get him into a school that will help him.
But having no luck getting that done.
Knowing I'm not doing enough.
Feeling like I'm forever behind.
Like I'm tired all the time.
Feeling like I just can't do this.
So the eggs stay on longer than they should and they burn.
And so I cry over burnt eggs.
Because this is something I can fix.
Throw them in the trash, rinse the pan, start over, and be able to fix it.
So easy. And no one even has to know that I burned the damn eggs in the first place.
If only everything else could be fixed so easily.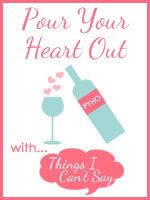 Find out more about Pour Your Heart Out. Just remember: it's about sharing what's on your heart and being supportive to others. Grab the button or link back in your post and add your link below. Visit other linkers, too, please.