Welcome to Pour Your Heart Out- if you need more info on how to participate, check out
THIS
post. But it's personal- it's what YOU think is pouring your heart out. Please grab the PYHO button or link back in your post if you are participating.
Again, just a brief reminder that everyone linking is pouring their hearts out and we should all be respectful in our comments. 😉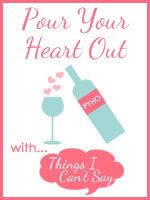 I love my husband.
I love my kids.
My family is important to me. The most important thing in my life.
And so, I do get a little judge-y sometimes when I hear that someone I know had an affair.
Because how could you do something so selfish? Something that is going to destroy the trust between you and your spouse. Something that could tear apart your family.
And for what?
For sex? Go have sex with your husband. Or hell, go get a toy and take care of that yourself.
For companionship? Go talk to your spouse. Make a friend of the same sex. Get on twitter.
Wedding vows betrayed, hurt feelings all around, and a family that might not survive it.
It doesn't seem worth it. So, yes, I judge.
But…
Marriage is hard.
You fight over petty things, you fight over big things. You stress because of money, because of your jobs, because of your kids, because of a million different reasons.
You forget why you were so attracted to your spouse in the first place and you don't feel like you are appreciated any more: not your looks or your thoughts.
You snap at each other because your spouse is easy to take it all out on.
And you feel lonely and unhappy.
Then, there's someone who notices you.
And not because you forgot to switch over the laundry or because you're in a bad mood, but because you had an infectious laugh as you were pushing your son on the swing.
Because you look cute in an old dress.
Because you told a funny joke.
You were noticed for a reason that is about YOU and not just you in the role of wife or mother.
And it feels good.
All those stresses you face as a family wouldn't exist in an affair. You could suspend reality and just enjoy the moment.
And I see why someone might take that a step too far: from enjoying the attention for a brief moment to wanting that attention more often, wanting that all of the time.
But, while I get it, I get wanting that attention, wanting to feel special, wanting to feel like a beautiful woman, it's still not something that I have ever done. It's not something I would ever do.
Because I do love my husband. I do love my kids. I want us all to be together. And the problems we face, we face together. I wouldn't give up my family for anything.
So, I'll admit, I still am going to have on my judge-y pants when it comes to talk about cheating.
If you link up, please visit the linker above you and the one below you. You can always visit more, too!