If you have never visited Pour Your Heart Out before, see
THIS
post for more information- but it's personal- it's what YOU think is pouring your heart out. Please grab the PYHO button or link back in your post if you are participating.
Again, just a brief reminder that everyone linking is pouring their hearts out and we should all be respectful in our comments. 😉
Also, the linky is what you make of it- if you link up a Pour Your Heart Out post, please make an effort to visit some of the other linkers. And even if you don't link up, visit a link or two to find some new blogs to read! Tips to make the most of a linky.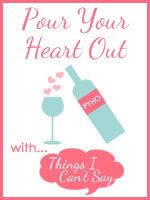 April 20, 1999: Twelve years ago today, I was student teaching in a third grade classroom. In a tiny little town that it took me about 30 minutes and 4 wrong turns to get to every weekday. I don't think I could find the town today without a Garmin directing me there, let alone be able to find the small school.
I was weeks away from earning my teaching degree. Feeling that I had chosen the right profession, that teaching was it for me.
And then we got the news.
A school shooting at Columbine. Thirteen were killed and the two gunmen killed themselves. Twenty-four more injured.
In a small town. Whether it was the result of bullying or depression or the violent influence of society: the questions still haven't really been answered.
But, it happened.
Parents sent their children to school, thinking it was safe. Teachers went to work, thinking it was safe. And it wasn't safe.
A tragedy. One that could happen anywhere.
The following week, my mentor teacher returned to the classroom as I was singing a multiplication facts song with the class and quietly locked and shut the door. She waited until we finish singing the song and announced that we are going to have a special reading time. Get your book and go sit in the reading area… an area sectioned off by bookshelves that isn't visible from the door or the windows.
I glanced out the windows at the high school across the street. Beside the high school: a huge wooded area. I could see police officers wearing body armor and helmets, carrying large guns, slowly making their way through these woods.
I tried not to give away what I saw, so as not to alarm the 3rd graders.
We crowded in the reading area, attempting to keep the kids quiet, not sure what was going on.
Later, we find out: someone had threatened to make that school the next Columbine. Threats had to be taken seriously. Thankfully, it was an empty threat and no one was injured.
Columbine was not the first school shooting and it hasn't been the last. But, it's the one that forever changed the way we think about school safety.
It burst our bubbles of thinking that schools were safe.
Sending our kids to school became something we had to think about. Being a teacher no longer sounded like a safe choice. Everything changed after that day.
Because if it could happen in Columbine, it could happen anywhere.
I wrote a different kind of post about Columbine last year: Hope Lost.
Take a moment to remember the families whose lives were forever changed 12 years ago today.