Welcome to Pour Your Heart Out- if you need more info on how to participate, check out
THIS
post. But it's personal- it's what YOU think is pouring your heart out. Please grab the PYHO button or link back in your post if you are participating.
Again, just a brief reminder that everyone linking is pouring their hearts out and we should all be respectful in our comments. 😉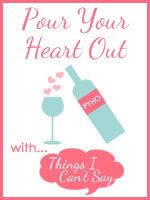 I posted the first part of this on Monday. A Young Woman's Stupidity. Because together, the story is a little too long for just one post. And also because part one was the background and the ending is more of a Pour Your Heart Out post.
I didn't have to work that day, so I'd gone to the gym that afternoon. I was running late for our CIT subs meeting and thought about changing out of my gym clothes before heading in so that it wouldn't be obvious that I'd had the day off. But, I shrugged it off. No one had needed me that day and we didn't have to work if no one needed us.
So, I bounced into the meeting and joked that I'd taken the day off because I'd had to deal with Mrs. D the Dragonlady the day before. Nick laughed and the four of us had a short meeting in his classroom.
When the other two girls got up to leave, Nick asked me to stay. No big deal. We talked all the time.
He sat beside me and just stared at me for a minute. I started wondering if I was in trouble for not working as much as they had expected me to. It really wasn't my fault: I worked when the teachers called me, but I had a lot of days off and a lot of days when I only worked an hour or two.
But, that wasn't it at all.
Nick said that he was worried about me. That I didn't seem as happy as I was back when we'd first met. That he had a feeling that things weren't going so well with my fiance.
My whole body just crumpled. He was completely right. Things were not going well at all and because I'd moved to his town, I didn't have any friends of my own to be able to talk to this about. I nodded and tried not to cry.
Oh, how I needed a friend to talk to about this. I was so glad that Nick was there for me.
Until he started talking more.
Because he wasn't offering me a shoulder to cry on.
He was telling me how beautiful he thought I was. How I'd been like a shining light to him at the interviews, which is why he remembered me and called to check on a job for me. That it had been him to tell Central Office to give me this position so that he could spend time with me.
My head began to spin. I felt like I was watching this conversation from somewhere over near the classroom door, instead of right beside Nick.
He told me that a woman like me needed a man to take care of her. He told me the days and times when his wife wouldn't be home and said that I could come over and he could take care of the needs that obviously weren't being met at home.
I sat there silently, not knowing what to say. Hoping that if I didn't say a word, maybe we could pretend this whole thing hadn't happened.
Nick patted my hand and told me to think about it, that he'd see me the next day because he had a meeting at the school I was working at tomorrow.
I grabbed my car keys and practically ran out of the school. I got into my car, drove a few blocks and then pulled over and cried.
When I pulled myself together, I drove home. Immediately, I typed out all he had said. Thinking that maybe I'd misunderstood what had happened. Writing always helped clear my head. And maybe I'd need to remember what had been said.
I was in bed when X got home and I pretended to be asleep because I didn't want to talk about it. The next morning, when he was getting up to go to work, he asked me why I wasn't getting up since he knew I was supposed to work that day. I whispered that I didn't feel well.
He was annoyed with me and told me that I needed to get up and go. I burst into tears and told him that Nick would be at that school today and I didn't want to see him. And then I spilled what had happened. I could see X's hands curling into fists and I had to calm him down.
The next night, Nick called me and said that he was sorry for what had happened. That he'd completely misread the situation and didn't want to disappoint me or lose me as a friend. I didn't say much, because I had no idea what to say. And then he reassured me that nothing would change as far as work went.
Those words made me panic and think that this would change my job. It could affect my job for years to come.
While I was still in shock from what had happened, I was in fact smart enough to seek help and an attorney sent a letter to Nick on my behalf, clearly stating that he had crossed a line and that I expected that nothing like this would happen again. It also stated that I expected that none of this would affect my career in the future.
After this, the phone calls from Nick stopped. We didn't have a weekly meeting any more and when we did meet, we met at a table outside his boss's office at the Central Office. The tone of the meetings changed and were kept completely professional.
Though Nick never again made an inappropriate comment to me, the event changed me. Anytime I was talking to a male, I would question his motives. I held myself back and became very guarded.
I look back now and realize that I should have seen this coming. I also realize that while Nick was in the wrong, I was not innocent: I should have been more professional from the start.
If you link up, please visit the linker before and after you. You can always visit more, too.