Welcome to Pour Your Heart Out- if you need more info on how to participate, check out
THIS
post. But it's personal- it's what YOU think is pouring your heart out. Please grab the PYHO button or link back in your post if you are participating.
Again, just a brief reminder that everyone linking is pouring their hearts out and we should all be respectful in our comments. 😉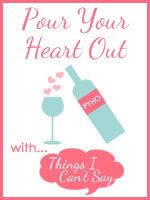 Every night, when my boys are fast asleep, I think about how the next day will go.
That tomorrow, I will have patience with them. That I will bite my tongue, count to ten, and calmly handle everything that comes up.
That I won't freak out when one of my boys decides to slide down the banister or when another chases me out to the mailbox when he's completely naked. Or when the third pulls my iPhone out of the back of his pull-up. And then screams because he has a Hi-Ho Cherry-O piece stuck up his nose.
After all, it's just little things. It's not like we have a gorilla-glue-all-over-the-couch incident every day. And they only gave each other horrible hair haircuts once. Okay, twice.
In general, they are just typical little boys with lots and lots and lots of energy.
And they want to PLAY. That's rough and tumble little boy play: physical, active, messy, and LOUD. Oh, for the love of God, are they LOUD.
But, they have the biggest smiles and the sweetest little hearts.
What they do is just natural little boy curiosity, not malicious bratty behavior. Even the gorilla glue incident was an accident. Sure, they might wrestle around, but that's about the worst of it.
But, as good as my intentions are each day to handle all these little things with grace and calm, I fail miserably. Yes, this mama loses it.
And I SCREAM.
I never wanted to be a screamer. Deep breaths and counting to ten don't sound all that hard when I'm looking at their angelic sleeping faces.
And then it's the middle of the day. And they are arguing over something totally stupid. And someone spilled juice all over the floor and someone else accidentally knocked over the laundry I had just folded. And then they all gang up and decide to see if they can whine their way into heading to the pool even though it's about to storm.
Oh yes, mama screams.
GIVE ME TWO MINUTES!!!
MOMMY NEEDS TO FINISH THIS FOR WORK!!!
LEAVE YOUR BROTHER ALONE!!!!
DON'T EAT THAT, IT'S NOT FOOD!!!!
PUT YOUR CLOTHES BACK ON!!!
LA, LA, LA!!! I CAN'T HEAR YOU!!! with my hands over my ears. Okay, I only did this once, and it was after my oldest had done this all morning to his brothers. This one actually shocked them into silence.


I know I don't want to be like that. But, my patience gets chipped away little by little each day until I'm that cranky, yelling mama.
My patience doesn't return until they are once again fast asleep. And the cycle starts all over again.
If you link up, please visit the linker above you and the one below you. You can always visit more, too!