Welcome to Pour Your Heart Out- if you need more info on how to participate, check out
THIS
post. But it's personal- it's what YOU think is pouring your heart out. Please grab the PYHO button or link back in your post if you are participating.
Again, just a brief reminder that everyone linking is pouring their hearts out and we should all be respectful in our comments. 😉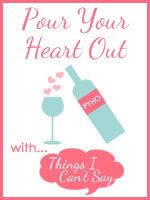 For those of you who don't know, my 5 year-old has lead poisoning, which has caused him to have other difficulties as a result. Our doctors have only told us to wait until all the lead is out of his system and then we'll see how he improves and what we'll still need to work on with him.
It's been a frustrating process because we don't want to wait, we want to help him NOW. Luckily, he was able to qualify to go to Occupational Therapy once a week.
Bear has been going for over a month now. And what I have to say to his OTs, well, it's a perfect fit for the lovely Tonya of Letters for Lucas's new feature Letters for You.
Link up your Pour Your Heart Out post and please visit at least the linker before and after you.