If you need more info about Pour Your Heart Out, see
THIS
post.
But, really, it's anything that YOU consider pouring your heart out.
Be sure to check out some of the links- you will find some amazing stories out there.
Again, just a brief reminder that everyone linking is pouring their hearts out and we should all be respectful in our comments. 😉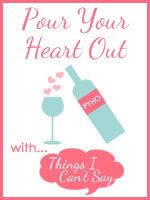 I had a parent-teacher meeting at Bear's preschool last week, with both his teacher and the director of the school. I was still trying to process everything and deal with it all before I poured anything out.
My Bear(4) is my child that I worry the most about. He has some learning issues due to some health concerns. And while the progress he has made in the past year is AMAZING, he is still well behind kids his age. If you want to read more about some of what we have gone through with him, you can click on the "Bear" label at the bottom of this post.
Last year, he had a very limited vocabulary. Most worrying was that you could talk to him and it was like he couldn't hear you. Not a hearing problem- whisper the word "chocolate" across the room from him and he would come running. But, he often wouldn't respond when you would try to talk to him. It was different than a child choosing not to listen to Mom- it was like he COULDN'T, not a choice.
And then it started to get better. Where he would respond and we rejoiced. But, often, his response didn't match up to what you were saying. He knew he was supposed to respond, but didn't know how to respond in what we think of as in a "normal" way, so he would tell you something completely different from what you were expecting.
His vocabulary has really grown in the past year. And he is getting better with appropriate responses.
But, he still isn't where he needs to be. And this causes major frustration for him.
We had him evaluated in the spring and he falls into the range that made me groan in disappointment when I was a teacher: below average but not low enough to qualify for any sort of additional help/therapy.
Though, in gross motor skills, he tests 2-3 years above his age. We are not surprised in the least by this.
His evaluation team was shocked by the results, as they thought that they were going to be working with him. But, they had to go by the test results. One of them said that it's something that's hard to put your finger on, but when you are talking to him, something just seems "off."
He had a PHENOMENAL preschool teacher last year. Honestly, I don't think it's possible to find someone better for him. Unfortunately, we had to move and that school is now over an hour from our house. I so wanted him to have that teacher again. I thought of every scenerio where he could still go to that school- but it just wasn't possible.
So, I researched schools near us and enrolled him in the one that I thought would be best for him. Five days a week, for 3 hours each day, with some days allowing him to stay for an extra hour for Lunch Bunch, which he loves.
Next year, when he starts kindergarten, he will be in full-day kindergarten. So, I figured we needed to get him ready and that the routine would be good for him.
But, his teacher doesn't feel like he's ready. That maybe it is too much for him. She has a bigger class than what he is used to, so he's not getting the one-on-one that he needs. And she doesn't have the time to draw out the appropriate answers from him when she asks him questions. But, again, we're thinking towards kindergarten where he will go to the school where my oldest is- and there are TWENTY-EIGHT kids in his kindergarten class. So yes, the 10 in his preschool this year is more than the 4 in his class last year, but it's nothing compared to what is coming up next year.
Last week, he got so frustrated with the classroom and not being understood(this is the teacher's reasoning behind it), that he actually bit another child.
Bit.
Hard.
This is NOT something that is in his character. He DID used to bite back when he was 2 and couldn't say more than a handful of words. But, it has not been an issue in close to 2 years now.
He's usually the child who will hug or kiss a friend and want to sit in an adult's lap.
I wanted to cry in that conference because I didn't know what to say or do to help. I still don't know.
What we are trying for the time being is to have him go to school only 3 days a week. See if maybe giving him a little bit of a break works. And I am going to really focus on some structured activities with him when he is home those days.
I don't know if this is the right decision at all. I don't know if it would be better to keep him going five days. Or if I should try to magically find the money to pay for additional help for him. Or find him a different school. I just don't know.
But, my heart is aching for him. For my sweet child, who is struggling. For my little boy, who isn't always understood. I feel helpless.