One year ago tomorrow, I introduced the very first Blog Friend Feature here on Things I Can't Say. When I started it, I thought that it might be a summer feature, but after seeing your response to BFF, I decided to continue it- and now here we are: a year later!
As long as the BFFs continue to get new friends from their feature day, we'll continue to have BFFs each week!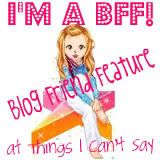 The first week of January, I did a recap of the first 30 BFFS. There have been 20 more since then and I'd like to recap them, too. In case you are wondering how my math adds up to one year: 30+20+1 recap post+1 week when Blogger wouldn't let me post=52 weeks.


How to Survive Life in the Suburbs
I'm Living Proof God Has a Sense of Humor
Take a look at the list and see if you know all of those bloggers! If not, go meet someone new. And if you do know them all, take a look at the first recap post to see if you can find a blog that you don't know yet. Or, P.S. you could click on the "Blog Friend Feature" label below to bring up all of the BFF posts.
Some of you were asking me how you could be the Blog Friend Feature. It's easy: just have a blog of your own and be an active part of the community here at Things I Can't Say. I keep a running list of people I'd love to feature and try to work my way through it. If you haven't been featured yet(especially if you are new to my blog), thanks for your patience!