Okay, that's enough of the sappy from me.
Back to typical Shell.
Supahmommy and MommyBrain's All About MEme subject for the week is: What is your favorite quote and why?
Well, because every quote I can think of- with the exception of As Good As It Gets' "Sell crazy someplace else, we're all stocked up here." which is our family motto- are sappy, I'm going with something slightly different.
Once upon a time, at the end of my college days, I was addicted to a little show called Dawson's Creek. The whole will-they-or-won't-they and then Pacey-or-Dawson thing had me riveted. I thought I could have been Joey Potter in another life.
Every Wednesday, from 8-9pm, no one was to bother me. Ah, the days before dvr.
A boyfriend once called me at 8:55 on a Wednesday night: right at the end of the show- critical defining moment/cliffhanger time. I answered the phone by screeching, "What the hell are you thinking? It's not 9pm yet!" And then I hung up on him.
In case you're wondering, he later apologized profusely for that. And then I dumped him shortly after that for being spineless. *Shrugs*
But, back to my love affair with the show. I would watch with anticipation and end up sobbing my way through many shows.
Even if you never saw an episode how dare you, you can still appreciate some of my favorite quotes from the show. Remarkably deep, coming from teenagers.
****
Dawson: But what good is their love if it's not strong enough to overcome those circumstances?
Joey: Because in spite of the circumstances… they never stop loving.
****
Jen: Don't give up on your lost causes, you never know when your luck will change.
****
Jack: I don't believe in perfect love. But I do believe that there are people whose lives are inextricably intertwined.
****
Mr. Brooks: Do you know why so many great pictures are about love triangles? Simple. For every piece of happiness, there's also a piece of unhappiness. If you haven't told both sides, you haven't told the whole story.
****
Pacey: I don't regret anything because it's life's little twists and turns and bumps and bruises that make you who you are. Why would I regret that?
****
Do you have a favorite quote? Click the button to link up or to read more quotes.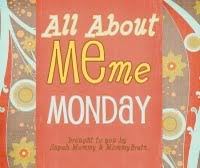 Btw, wanna see how Dawson's Creek had far reaches? Check out this quote from the show from May of 2001: Dawson: It's become obvious to me that in life, you're either a Mac person or you're a PC person. The choice defines you.