Yes, I double-dip.
And proud of it.
I couldn't resist this Top 3 Thursday question this week: What are your TOP THREE reasons for blogging?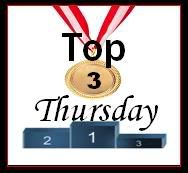 3. It's much more fun than doing housework.
2. It stops me from exploding: Believe it or not, I actually TRY to be polite out in public. And not always say what I'm thinking because I don't want to hurt someone's feelings or even more that I don't want to look insane. It's not like you can walk up to a total stranger and pour your heart out. And yet, you can on your blog. It's like free therapy.
And the #1 and probably only completely serious answer of mine:
1. The friendships I've made.
Really. I can't believe the friends that I have made through blogging. I've definitely found "my tribe," along with
my bloggysister
and now even my
irl BFF
blogs.
I feel like I know you and that you know me.
That it will not be weird at all when I get to meet some of you soon. It will be just like seeing an old friend.
I want to especially thank those of you who were so supportive of my post about Bear yesterday. And hope that you'll understand that I totally sucked at getting to all of your blogs yesterday because of his evaluation and some lab work I had to take him in for.
Do you know that aside from my BFF, I really didn't tell many people irl about what we have been going through with Bear? Because I really felt like they would judge. People I called friends. And I was worried about them judging.
And yet, I didn't hesitate to post about him here.
And pretty much beg you to read that post.
Because y'all are FABULOUS.
And, THAT is why I blog.
I will be posting about his evaluation soon.
Thanks for all your thoughts and prayers.
*****
And, Shhhhhhhhh! I have to share this secret with you. I wasn't going to double dip today, but I had to, so that I could share this really cool trick that I learned for getting out of the house kid-free and on time! Plus I wanted to show you the cool ice cream thing I made. Cool, ice cream? Yes, I love puns.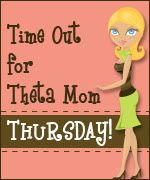 How did I manage to get my time out without kids in tow this month?
Hubs is really good at trying to find that time for me, but he also works his ass off for us so that I can plop my ass in front of the computer and blog all day long stay home with our boys.
But, I really wanted to get out and see Dear John all by myself on a Sunday afternoon. You can read my review HERE.
Want to know my tip for making sure that you do actually get out to the movies when you want to?
FANDANGO!!!!
Yes, go ahead and buy your ticket ahead of time online.
And then you can say, "Oh, I already bought my ticket and so I have to be there for the 1:15 show or we eat that ticket."
It was my easiest exit from the house, ever.
Fandango, I ♥ you!
*****
Have you entered my Color Cookies Preschool Game Giveaway?
Details about the next dance-off are coming TOMORROW.
Shell and Supahmommy's Just Dance Your Bloggy Off.
You won't want to miss it!