A blogger's nightmare: water spilled on the laptop! It's currently buried in rice, hopefully healing. But, that's why you haven't seen as much of me for the past few days. At least my blackberry has been replaced from the spilled milk incident! Not a whole lot of luck with electronics this week. Or maybe everyone in my family just needs to use sippy cups.
If you are here to see who this week's BFF is, you can find that post HERE.
Toay is the last day to vote for Not Mom of the Year! It's a really tight race. I'd appreciate your vote HERE. Thank you so much!
Finally, if you are here from Friday Follow(or if you've followed recently and I haven't followed back yet), please make sure you comment and leave me your link. I'll get to them this weekend after my laptop is running again!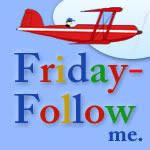 Welcome to the 9th Friday Follow hosted by our awesome hostesses, Shell from Things I Can't Say, Terri from That's What She Said, Tami from Hearts Make Families, Harriet from Harriet and Friends, and Ian from The Daily Dose of Reality. Thank you everyone for being willing to host! Please stop by and see these awesome host/hostesses.
We invite you to join us every Friday to get more blog followers and to find many interesting blogs that you like. This is all about sharing and having fun.
We expect you to be on your honor and to have fun. These are only guidelines to make it more enjoyable for you. Here's how YOU can join the Friday Follow celebration:
Link up your blog below.. One Link per blog
Grab our Friday Follow button include on your side bar, or post.. grab the linky information if you want it
Follow the Friday-Follow blog and the hostesses in slots 1, 2, & 3 that have volunteered today to host
Follow the blogs you want, leave comment saying you are from Friday Follow – use common courtesy
If you need more guidelines about following see Friday-Follow.com
This list is new each week and closes on Saturday at 11:59pm EST. The links do not carry over. Please link up each week for new participants to find your blogs. It will be visible all week to visit the blogs listed.
Congratulations to our Three Friday Follow Winners!!!
Each week we will randomly draw from three (3) blogs from the links for the next week's Friday Follow, and each blog chosen will be placed in the highly coveted number #7, #8, and #9 position on the blog hop. The first blog chosen will also be given the option of doing an interview which will post on Friday-Follow.com on Thursday the next week. We love your participation and want to give back to you! You could be next!
Today's hop is sponsored by www.votewithyourremote.com.The Vote With Your Remote movement is helping bring more family entertainment to TV – like the Secrets of the Mountain movie on NBC (now on DVD at Wal-Mart), which became the #1 TV program on Friday, April 16, and one of the highest rated TV movies of the year. Producers, sponsors and parents are coming together to show that high-quality family entertainment is wanted and appreciated. By showing your support for Vote With Your Remote, you will help make great family television programming become more readily available.
One of our participants will win a dvd of Secrets of the Mountain, the first installment in this series. Be sure to
enter their contest to win an iPad.
..
Want to advertise on our site and be seen by thousands of people? If you sign upTODAYAdvertising is $5 per spot. You must sign up today to qualify. This offer expires at midnight CST. Ads normally cost $10. Find out more information.
Have a product to promote? Become a sponsorGot a meme or to promote? LIST YOUR LINKY!/ See the Linky ListingGot a giveaway going on? List it here
Advertise on our site- learn how here
Also! Join us for our new weekend comment club!
Thanks to Tammy at Tammy's Two Cents for coming to her lil sis's rescue and posting this for me!