I'm tired and being really cheesy with my title, okay?
I felt like doing something lighter today, after all the pouring out of hearts yesterday, so I'm going to really quickly participate in three different memes.
Wait, don't run away! I promise it will still be a short a post.
By the way, if you didn't get a chance to read some of the posts from people who linked up for Pour Your Heart Out yesterday, be sure to check them out. Fabulous stuff!
*****
First up is Thank You Very Much with Kmama at The Daily Dribbles.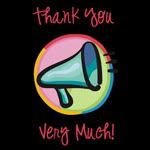 To the woman in Target yesterday who decided that her ONE toddler needed the three-kid shopping cart. Thank you very much.
You can't even justify it by saying that it's a fun cart, like a race car or something.
Nope, just a regular cart with that big attachment thing on it.
And, you needed to grab it as I was walking in with my THREE kids in tow.
Thank you very much.
You are lucky that the cart guy hunted down another one for me or I might have accidentally clipped your ankles with my cart.
****
Next is The Skew with
Supahmommy
& co. Their topic this week is Netiquette.
And they have a super cute button that I can't find right this second, but I'll put it
*HERE*
when I find it, because that is good netiquette.
Just one thing I want to say here, and this was brought up at Bloggy Bootcamp, too.
When you are leaving a comment on someone's blog, make it about their post, don't just say, "Come visit me at www. pleasegivememorefollowersandpageviews. com."
Because if you don't read someone's post, why should they come read yours?
And don't try to copy and paste "Great post! Come visit me at….."
Not that I always leave the best comments. I know, I totally suck sometimes.
But, I don't beg you to come visit me.
Not in a comment, anyway. 😉
I'm going to make an exception here, though. Some of you are new to my blog and I'd love to be able to go visit you, too, but I can't find you. So, in this case, PLEASE DO leave your url.

*****
Next up Top 3 Thursday with Confessions From a Working Mom and The (Un)Experienced Mom, who asked for your top 3 quirks.
3. I clap and dance and jump around like a giant dork when I'm happy or excited about something. Like I'm a cheerleader or something. No, I never was one.
2. I take certain words and overuse them to death. Like "fabulous" and "actually." Eventually, I stop using that word completely and laugh hysterically whenever I hear someone else say it because it reminds me of my overuse.
1. I laugh inappropriately all the time. Sometimes, I'll be thinking about something else entirely, or my mind will go off on a tangent, or I'll think how Hubs would make whatever is being talked about into something dirty, or I just don't know how else to react. So, I laugh.
Join in some of these fabulous memes!