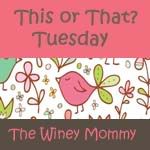 I don't usually post more than once a day, but I had to show some love to my girl Chelle at The Winey Mommy, who just started doing a This or That? meme. I absolutely love Chelle and she spells her name the way the Hubs spells mine.
The question for the week is:
Do you buy your makeup at a discount/drugstore or some type of specialty makeup store?
Makeup? What's that? Oh, yeah, the stuff I use to help me not look like a sleep-deprived zombie mom.
Me, cheap-o ME, yes, I actually usually buy it from a specialty store.
Usually Sephora or Ulta.
Used to be Sephora, but not Ulta is the store that is closest to me, so I go to that one.
About once or twice a year, I walk in, find an employee whose makeup I like, grab her arm, and ask her to HELP ME.
I've had great luck with them listening to what I want and making suggestions that fit my budget, as well as having them show me how to apply it all.
I ususally ask for a gift card to one of those places for Christmas and my birthday(in July), so I'm usually set.
Though, I do love Cover Girl Lash Blast mascara.
So, that's my This or That.
Easy! 🙂
Want to play along?
Go click on Chelle's button and link up!