You can find today's guest blogger on
For the Love of Writing
, 
@sarcasmgoddess
,
facebook
, and
pinterest
.  
Bacon Addict. Awesome Sausage. Lives to write and hopes to one day make a living writing. Thinks the UPS man is trying to kill me. Wife to the husband. Mom to furry four-legged children Sweet Riley and Evil Cody. Prone to panic attacks and falling up stairs. You and tequila make me crazy.
I Think I Got the Wrong Script
Sometimes I feel like life is a movie and I'm just a character who has a role to play. It sounds like a really awesome idea, but the problem is my role keeps changing which makes things super confusing. And also? Dangerous.
I tend to step in and provide whichever emotion or action is not currently being contributed by the other parties present. For example, if my friends and I are being mauled by bears and they're having a panic attack, I'm all, "Honestly, guys? It's a bear. Relax."
The converse is also true. If I'm in a situation where everyone is being unnaturally calm, I feel it is my honor-bound duty to spaz out.
Everyone: Oh, shuckydarn, we're out of bacon
Me: AHHHH! WE'RE OUT OF BACON! THE WORLD IS ENDING; I AM GOING TO DIEEEEEEE!
Okay, so that's not a good example. Everyone freaks out when there's no more bacon.
But you get the idea.
The other day I was waiting at a red light when the guardrails came down signaling a train was approaching. Thirty seconds later, they went back up and a train hadn't gone by.
As per usual, I began talking to myself. "Well that's just terrifying. Is it a malfunction that they went down in the first place, or that they went back up? Is a train barreling down the tracks as I sit here talking to myself and is going to BAM! kill me as soon as I cross? This is really disconcerting. I should write my Congressman or someone. Something must be done about this!"
As I was mentally composing my plan for Traintrack Crossing Justice, I realized I probably didn't have a very strong case considering that time I was all, "meh, guardrails" and decided to jump the tracks.
True story.
I was sitting at a red light and no cars were moving. None. Not in any of the lanes going in any direction. They were all just sitting at the light. Waiting. For something to happen.
Bizarre, right?
I mean, seriously. When was the last time all the lights at a four way intersection were red at the same time?
Never. That's when. So why was everyone just sitting around?
Naturally I thought, they must be waiting for someone to do something. And that someone must be me!
The feeling is similar to standing in the midst of a solemn, civilized group of intellectuals and yelling, "Vagina!" just because no one else has.
I've digressed.
I started to make my left turn and could practically hear the other cars cheering for me.
There is no prouder moment in life than knowing you are fulfilling the role scripted just for you. Until you realize you are a colossal dumbass and are about to dodge a train.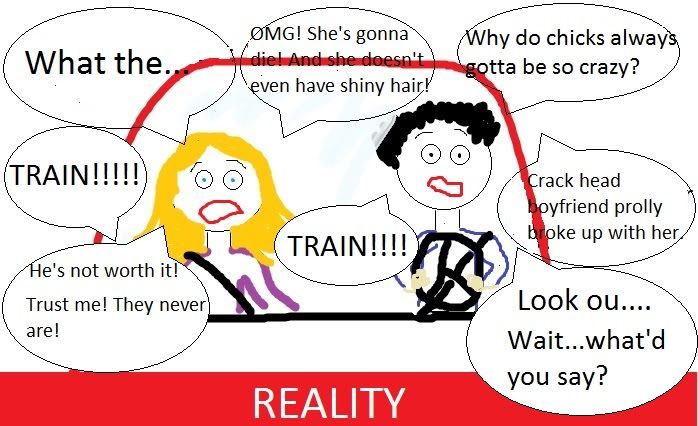 That's right, folks. The guardrails were down, the lights were flashing and a train was on its way.
After pausing to crap my pants, I sped away as quickly as possible, because honestly, how embarrassing. 
From here on out, I hope the only roles I have to play in life are the ones involving ALL THE BACON!
A million thanks to Shell for having me. And big, wet, sloppy puppy kisses for being so patient when my internet decided to crap out on me. I truly feel honored to be featured on her blog. It was totally worth the seven kinds of anxiety I experienced as I tried to think of something to write about.