KLZ is a sarcastic pain in the ass trying to work, raise a child and still find time to cuddle with her husband. When she's not sleeping she tells funny stories about her life at Taming Insanity. She can also be found spouting nonsense in 140 characters @TamingInsanity.*
As a reputed smart ass, there are few things I find I can't say. I'm blunt but not tactless. I like to think of myself as a very graceful bull in a china shop. You inherently expect there to be damage because the bull, by nature, is a bull. Yet, I try to let my words dance amongst people's fragile egos leaving them unbroken.
I'm not always successful. Who is?
To help all of us avoid awkward situations in the future, I've catalogued a number of phrases I find you should try to avoid in every day conversation. These phrases will, without fail, cause you to be banned from all future social engagements.
You got promoted? That's funny, I always thought you were a moron.
No, mom, Stephen Colbert is not actually a conservative.
No one cares about your cat.
Get with the program, the rest of us are using a full 10% of our brains.
You're acting just like your mother.
You've got a booger on your eyebrow.
You do not pay me enough to sit in this meeting. Yes, I know it's a recession. But this is still stupid.
[Insert anything you've ever said to your mother-in-law]
So there you have it: a truncated list of things I can't say. Some of them are really, really dying to be said. Especially that thing about you having a booger on your eyebrow – someone ought to have told you about that by now. But I can't. I wouldn't want things to be awkward.
At least I've come to terms with the idea that you never can win when speaking to a mother-in-law.
All kidding aside, I go out of my way on my blog to avoid certain topics. I don't discuss details about work. I rarely mention my in-laws. It's not that I don't think these things are important. It's that I don't think certain people have a sense of humor about these topics.
At least one of my mother-in-laws would be highly offended by the innocent joke above. I can almost sense her clutching her pearls in horror right now. It's just that mother-in-laws are common ground for everyone, which makes them a good opening for a joke. But people don't usually think jokes about themselves or things they love are funny. It's why political satire is tough as is poking fun at religion. So, those are jokes I don't make, things I don't say.
But I think them.
Still, I dream of a world where I can make jokes about things as bland as peanuts without permanently being accused of peanut-allergy insensitivity. The fact is, I don't have the thick skin that a comedienne like Roseanne Barr does. I'd have to stop moisturizing for years to develop that kind of hide.
So, for the time being, I'll just have to keep poking fun at myself and hope people find that amusing. Then again, there are lots of people who don't find antlers nearly as funny as I do.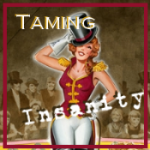 *KLZ wrote her own bio. I don't call people a pain in the ass unless I'm pms-ing. Please leave her some comment love here and then go follow
Taming Insanity
. You can also find her on
twitter
or
facebook
.