Caitlin "Mrs. MidAtlantic" is a wife, working mother, and provider of kibble. She blogs about the mishaps and mayhem of motherhood, of which there are many. She enjoys a good book (The Runaway Bunny is a particular favorite), a good tea party, and M&M cookies.
Want to hear something a little crazy? As a kid, I always sort of hoped that something wonderfully tragic would happen to me. I would lie in bed at night thinking up these crazy scenarios in which I, a poor, afflicted youth, would be lifted by my circumstances to fame and fortune. I would be invited to the dinner parties of the rich and famous, where I would be lauded by my bravery. My situation would be miraculously solved, but not until I was dating some fabulous celebrity, specifically anyone in The Sandlot or Stand by Me. A bit weird, but I have a feeling that maybe I'm not alone.
As it turns out, my life might seem a tragic existence compared to the seemingly romantic (but actually awful) imaginations I dreamed up as an average (maybe a little lonely) middle schooler in the nineties. I still struggle with this average existence sometimes as an adult. Perhaps that's why I started my blog. I thought, perhaps, my words would mean something to other people, and I could finally earn that feeling of celebrity.
The truth is, the only tragedy in my life is that I am so tragically average. I am a 5-foot 4-inches, brown-haired, middle child raised in suburban America. I had average grades throughout high school, college and even grad school. I make an average amount of money, at a job where I work averagely hard. I got married in the middle of my twenties. I conceived and birthed two (dare I say: average?) children with little drama. I am raising them in our average house on an average street in an average town. I'm not very religious, nor am I an expert on anything. I am just… average.
I should be someone more! Do something more! Fundraise for something! Be an advocate! Support a cause! But my life is so happily, perfectly, thankfully normal, I am more often left wondering, What's so wrong with being average, anyway? And maybe that's just it: my cause, my raison d'être. I am an advocate for average. I am a voice for all the other wonderfully average women in the world struggling to feel valid in a sea of causes, campaigns and celebrities. My life, my average life, is something important worth fighting for.
My life is average: mundane, common, sometimes a little boring, run of the mill, ordinary.
My life is average: extraordinary, magnificent, sometimes a bit exciting, spectacular, beautiful, wonderful.
I am an advocate for average. Average is wonderful; a cause worthy of advocacy. To all the women out there struggling with the middle, our lives might not be extraordinary, but they are lives worth celebrating, documenting, and remembering. Get out there in your minivans with your 2.5 kids and designer dog, and raise awareness for the average! Be an advocate for your own, wonderfully middling life. Speak out for women in the middle everywhere! We are average and we are happy!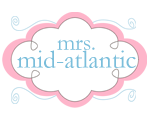 Please leave Caitlin some comment love here and then go visit Mrs. Mid-Atlantic.