Deirdre is a former elementary school teacher and technology integration specialist. After twenty years of teaching school in Virginia, she got married and moved to South Carolina. Eighteen months later she became JDaniel4's mom. Her blog, Jdaniel4's Mom, features things that her four year old son and she are creating, exploring, and learning together.
Older Parents
Over twenty years ago I taught an amazing little boy named Doug. He was really bright, friendly, and filled with abounding joy. Doug could read and do math skills way beyond his second grade peers but, it wasn't his intelligence that impressed me most. His love of his life and his family is what stood out to me.
Right before I met with his parents for our first parent conference I was stopped by his teacher from the year before in the hall. She wanted me to know that Doug had amazing parents but, that there was something different about them. "They are really old! I think they are in their late forties!" she said.
When I sat down with them, I did see that they were older. They were about twenty years older than me.Doug's dad had thin ring of hair on this head and his mom was dressed in a style a little different than the other moms.
When they listened to me talk about their son and shared their thoughts with me, they look and talked just like the other parents.
I am getting ready to send my son to PK4 and I am forty sevenish. My husband and I are about the same age Doug's parents were when I met with them.
My son JDaniel has no idea that he had really old parents. He probably will when he get older and he starts to notice that our skin has more wrinkles and we don't look like his friends parents.
My husband and I have talked about the fact that we will probably be old enough to be the parents of most of his teachers and some of his friend's parents. I know that right now I have sweaters upstairs that are older than they are.
Do I sometimes wish that I had been younger when I met my husband? Yes.
Do I wish that I were a younger mom for my son's sake? Yes, sometimes I do.
Do I believe that everything happens the way it is planned to? Yes, I sure do.
Jdaniel will mostly likely have the oldest parents at his kindergarten, high school, and college graduations.
He will probably have friends ask him if my husband and I are his grandparents.
When he gets those questions, I sure hope that he feels the way Doug did about his parents! Doug looked at his family and his life and loved both of them with all his heart. He didn't seem embarrassed to walk down the hall with his really old parents in fact he seemed proud of them.
When we walk Jdaniel into school and attend school events with him, I hope that his teachers will see me the way I saw Doug's parents. We will be just like all the other parents. We will just be a lot older with a lot less hair.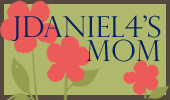 Please leave Deirdre some comment love here and then go follow her blog!