Lourie is the incredibly sweet and sometimes sarcastic blogger behind CA Girl: CEO, Writer, MD, Lawyer, Ref, Taxi…Mom!
I am often behind the camera instead of in front of it because I am the photographer and because that means I won't break the camera. I am painfully shy and yet, I love the idea of performing. Let me explain that to you. Being on stage and pretending to be someone else is a great escape from reality. I do not have to be me. Or at least, I can pretend to be the person everyone thinks I am not. People think I am so quiet and reserved. They also will tell me I am so calm and even-tempered. My only response to that is: oh honey, you just don't live with me. As for the quiet and reserved, well you haven't stepped into my comfort zone. Once you are there you know I am not either.
Unfortunately for you and for me, I make myself to appear quite unapproachable. I am not one to sit in the middle front row at church—more like the back corner or near the exit to make a clean get away. Likewise, I will not seek out new people at mixers(like I go to any) or church functions(more my speed) I either search out the one person I know or hang with the one I came with—meaning my husband or my mom if husband happens to be working that night. I am not a cold fish by any stretch of the imagination. All you have to do is draw me out. Once you have done that you are golden. And you will see that I don't bite…usually.
So if we ever have the pleasure of meeting, and it is filled awkward silences, rest assured it is totally me and not you. Just keep the conversation going. If you can do that, I am sure we will hit a common ground and I will open up. Then I will start talking, and probably
not shut up
open up and that awkwardness will melt away.
Are you shy or outspoken? Do you reach out to people or hope people will seek you out?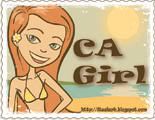 Please leave Lourie some comment love here and then go follow CA Girl. You can also find her on twitter.