105 heat indexes this week means that my kids are stuck inside. No way are we heading out to play in this heat.
But, when my boys are all together with no breaks from each other, and I'm trying to get some work done and blog, too, of course, there is a general air of crankiness.
Can't they ever get along? And can't they stop making me totally crazy?
But, then I remember that they can be sweet. And I do love my kids.
And I remember when they were this tiny:
Monkey 19 months and Bear 2 months
Cub 2 months
And I realize how fast time flies and how important it is to enjoy this time with my boys.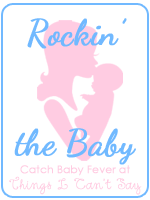 P.S. If you linked up for Rockin' the Baby, please
check the linky
and make sure your post is there. There were some slight problems with it yesterday. Don't forget you have thru July 18th to link up.