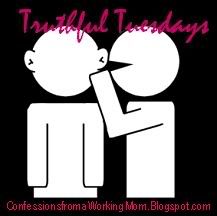 Pulling out a post from a while back to play along!
Truthful Tuesday's Question: Would you get a boob job?
Warning: this is an extremely shallow post.
I want boobies.
We are done having babies and after 3 pregnancies and breastfeeding 3 babies…the girls are shot.
Were they always this small? I don't know. Probably.
Maybe it was that the rest of me was smaller so the girls looked bigger before.
And they definitely aren't as perky.
So, I'd like some boobies.
Not gigantic ones.
But, maybe if my chest were bigger, you wouldn't notice as much how my hips are bigger than they were. It would balance me out.
Yup, I'll take some boobies so that I don't have to stress out at the gym so much.
I interrupt this extremely shallow boobies post to remind you to click everyday at the breast cancer website to provide free mammograms. All you have to do is CLICK.