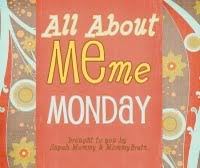 My first instict was to be sarcastic and silly when playing along withSupahmommy and MommyBrain in their MEme today.
Because that's just the way my brain works.
But, I decided to deviate from my normal deviant behavior and be serious with this. The four things that I am most thankful for(no rankings here!!)
1. Hubs- I'm thankful for a husband who takes care of me and the kids. Who sometimes works what I call "too hard" to take care of us. Who loves us. Who can always make me laugh. Who still looks at me like I'm the size 2 I was when we met. Who hasn't gone to get his eyes checked to see that that's not the case anymore. Who encourages our dreams and isn't afraid of trying to make them come true.
2. Health- I'm thankful that my kids are healthy. We had a bad scare with Bear this year, but he'll be okay. I've heard of so many babies this year who are not well. Parents are ill and kids are losing their parents before the kids are even old enough to say "I love you" to them. So, I'm extremely thankful that we all have our health.

My cousin's newborn, 10 days old and having heart surgery this afternoon. PRAY for him.
3. My boys- Monkey, Bear, and Cub. I love them to itty bitty pieces. Each with his distinct personality. Monkey, my bright 4-going-on-30 first-born. Bear, my sweet-as-can-be athlete. Cub, my fun-loving baby. Each one of them is truly a blessing.
4. My bff- I love having someone who knows me better than anyone else. Whom I can tell everything to, with no fear of judgement…who often knows what I'm going to say before I say it anyway.
(Good thing this was only asking for four…any more and I'd have to throw in something like I'm thankful for chocolate or maybe I'm thankful for wine.)
*Monkey had to do this same thing in Sunday school yesterday and he said he was thankful for Mommy, Daddy, church, and winter wolves? Winter wolves? Why not your brothers? "Because I LIKE winter wolves!" and then he laughed his silly little head off.
What are you Thankful "Four"?