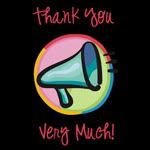 I had some rants that I wanted to get out and then I found Kmama's Thank You Very Much Thursday, so I'm linking up and getting some of my rantings out!
To my wonderful Hubs, who keeps telling me that we need to pack, but has yet to pack a single damn thing himself. Who thinks it's fine for me to pack when he isn't here, but who sits on his butt watching tv when I am not here instead of packing. That's ever so helpful. Thank you very much.
To Kate of J&K+8, who mentioned in her question show this week that there must be something really wrong with her if she was still wearing sweatpants and t-shirts. My wardrobe and I thank you very much.
Monkey, yes, I know my eyes looks weird and gross. It's called an allergy. Stop yelling that mom is really sick right as we are going into the preschool. Thank you very much.
Bear, Mommy's hair is already a disaster. So, playing with it and hanging on it is not necessary, okay? Thank you very much.
Seriously- since I published this post, Bear came up to me and used my ponytail to wipe his snotty nose. Thank you very much.
Oh, and Hubs, once again…I appreciate you helping out with the laundry by washing loads of clothes that contain just your clothes, but if there is something in the washer, the appropriate thing to do with that is to but it in the dryer, not to throw wet clothes into a laundry basket in the basement and let them sit there and mildew. Thank you very much.
I could probably go on all day long, but our big move is this weekend and we are nowhere near packed yet. I'm sure the move will inspire a whole list of things to be thankful for.