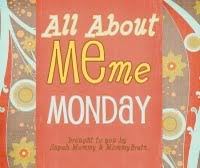 5 things I absolutely can not live without…and since my chances of being stranded anywhere but somewhere with all my kiddos in tow, and probably somewhere no more exotic than our local park…or even our house, here's what I would need to survive:
1. Wipes: for butts, for faces, for cleaning up whatever horrific mess my children have managed to spew out on themselves, on me, or at the world at large.
2. Cell phone: Because I need to be able to call for HELP(or maybe just talk to someone else for some sanity). Also serves as GPS for all those times I get lost and end up in
BFE
.
3. Beverages: preferably alcoholic, but since that often isn't feasible, at least something
caffeinated
or thirst-quenching: because dude, do I get exhausted keeping up with my three.(My kiddos would need approximately three bags worth of groceries per day, but we are talking about me, not them; they usually manage to eat most of my food yet somehow, I don't lose weight.)
4. Double stroller: even though my middle child is at an age where I shouldn't be forcing him to sit in it any more, it's still the easiest way to get from point A to point B if I can keep 2 of the kids confined. And it's an absolute necessity should we reach point B and GOD FORBID, have to wait a little bit.
5. My
BFF
. Seriously, I'd cart her and her kids around with me all the time. I don't know how I survived the 14 years that we went without talking. Friends since preschool, then lost touch after high school. Found each other about 6 months ago and are back to being inseparable. Our kids are close in age and we have the same views on parenting, so she's my go-to person when I want support, not someone who is going to tell me any variation of "I told you so" or "My kids would never do that." She understands.
And, she has all the other "must have" things packed in her ever-reliable bag, so for all the other things that I can't survive without, I can borrow them from her.