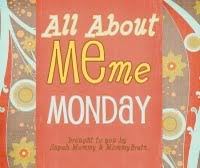 Supahmommy and MommyBrain are wondering about your spy self this week. Click and play along:
Tell us about a time that you tapped into your inner SpY self.
Tell us who you'd like to SPY on for a day and why!
Tell us which Spy Hero you love and why you'd make a good sidekick. What would your spy name be?

Let me just say this….
I do not like nosey people.
I'll totally point the finger at others and accuse them of being nosey and butting in where they don't belong.
But, secretly…
I LOVE being nosey.
So, the idea of being spy and getting to spy on people to find out what they really do or really think….wow, that appeals to nosey me.
But, that said, I have to admit that sometimes I find out things that I do. not. want. to. know.
Whether it's what someone really thinks of me(yes, you, who thought that I had left when really, I was right there behind you, thanks for the "kind" words), or it's some secret about someone that I really wish I didn't know since it's none o' my bidniz but now I can't stop thinking about that any time I see you(TMI sometimes people!!! Somethings should be kept to yourself)….
I think I've learned that I need to limit my nosey-ness, so I'm hesitant to say I'd love to spy on anyone. Even though it's tempting to just pick some random hot people and watch them shower.
So, I think I'll go with being a sidekick to a spy.
I'll be a Bond girl.
Why?
Because all Bond girls are HOT.
So, to make me fit the part, I'd have to get some sort of extreme makeover.
All at Mr. Bond's expense.
Or whoever is responsible for making those girls look hot.
More than the spy part, I'd like to know how to look hot.