This summer flew right by! It's August and my boys return to school soon.
It was a hot summer here, as it was in much of the country, so our summer fun mostly revolved around the water: the pool or the beach. With an occasional stop into the movies or indoor playplace to cool off, of course!
Whether your summer fun was going on vacation or staying close to home, grab your favorite pics and link up for the Summer Fun Show-off!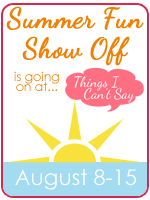 Button by Jess at The Frilly Coconut
Not only is it a way for you to show off all the fun you had this summer, but you can meet new bloggers by hopping around and visiting the other linkers. Plus, there are prizes! Details below my Summer Fun pics!
Prizes and Rules
Thanks to Ubisoft and the Clever Girls, three winners will receive a Smurf Dance Party Wii game and a Smurf plush!
One grand prize winner will receive an Ubisoft Dance Party Extravaganza prize pack: Smurf Dance Party, Just Dance for Kids and Just Dance Summer Party games, valued at $120!
In order to be eligible to win, all you have to do is:
1. Grab the Summer Fun Show-off button for your post.
2. Add a line to your post saying "Link up your Summer Fun for a chance to win prizes from Ubisoft." (pretty please link that to www.ubi.com)
3. Link up your post between August 8th and 15th.
That's it! Winners will be randomly selected and announced on August 16th.
I hope that you will join in!
I know not everyone has a Wii. Though you could be a seriously cool aunt or friend by giving your prize to someone as a gift if you win and don't have the gaming system. If you prefer not to be entered into the contest, you can still participate! Simply leave out the line about the contest, as the winners must have that line in their post to be eligible. If you have any questions about how to participate, please email me at shell at thingsicantsay.com
Check out previous photo linkys: Rockin the Bump and Rockin' the Baby.

To cut down on spam, I am requiring a backlink in order for you to link up your post. If you grabbed the button, you have the backlink. If you have any problems linking, please leave your link in a comment and I will get you linked up. I'm also requiring an email address so that I can easily notify the winners. Thanks for understanding!