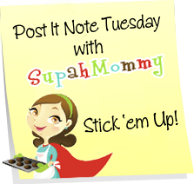 Go HERE to make your own post-its to play along with Supahmommy and the rest of the Post-it Note addicts. Hi, I'm Shell and I'm addicted to this meme.
Speaking of the beach- I have a super cute giveaway of Sunskinz shirts for your little ones with practically no entries right now. So adorable and they keep your kids safe from the sun. See the link in my sidebar. And if your children have clothing sensitivities, enter the Soft Clothing giveway. 🙂
Coming next week:
Cutest Pet Contest with prizes from TOOTHSOAP®
Supah, Chief, and I are hosting!