Even though
Supahmommy
and I had some
weak
good excuses for not participating this week, we did have some fabulous dancers to NKOTB's
Step By Step.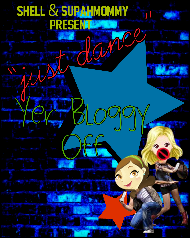 How can you not love you some NKOTB????
Though, if you are a winner, it's probably because you weren't even born yet when NKOTB first came on the scene.
I feel old.
But, gotta give it up to Not Your Average Teen for being our high scoring Dancing Queen.
Please click HERE to enter your info for your prize!
*****
We had some dancing fools awesome newcomers to our contest! As well as some veterans.
No fan fav this week- but I DO have to give an honorable mention shout out to Mellisa's husband from Getting All My Ducks in a Row.
He had some mad dancin' skillz.
*****
Next week's song: U Can't Touch This.
Short version, please.