Thanks to all of you who linked up for last month's Rockin' the Bump, I caught major Baby Fever!
Might as well indulge it with Rockin' the Baby!
It's easy to join in: grab the Rockin' the Baby button for your post and link up some of your favorite baby pics!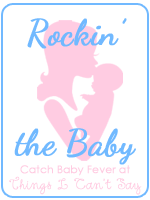 Button by Jess at The Frilly Coconut
Linky is open until 11:59pm on July 18th(*cough, cough* my birthday *cough, cough*). On July 19th, 4 linkers will be randomly selected to win a prize! Prizes described below my boys' baby pics.
Baby Monkey, 6 months. He's now 6 and a half. That half is important when you are 6, you know.
Baby Cub, 5 months. My "baby" is 3 years old now!
When did they get so BIG??? I have no more little babies in my house.
And now, for the prizes!
Prize #1: $50 Demi Bella Tee from Chic Mama Woman-owned brand that creates customized gorgeous diaper cakes but also sells high-end diaper bags, clothing, accessories, etc. Twitter Facebook
Prize #2: $50 gift certificate to shop at Storkie Offers beautiful baby shower invitations, birthday invites, and so much more! Company has been in business since1990 and recently had one of their collections featured on The Wedding Channel. Twitter Facebook
Prize #3: $50 gift certificate to shop at Lauren Nicole Gifts Woman-owned brand that designs handmade jewelry, specializing in handstamped silver jewelry and personalized monogrammed gifts. Twitter Facebook
Prize #4: $75 to Bellflower Books Woman-owned brand that helps you create professionally printed books full of meaningful text and photos, with their online tools making it easy to own an afforable keepsake. Twitter Facebook
Linky note: I am requiring an email so that I can easily contact the four winners! Emails will not be used for any other purpose. I'm also requiring a backlink: if you grabbed the button for your post, you have the backlink already. This helps keep the linky spam-free! Thanks for understanding! If you have any problems entering your link, please leave a comment with your link and I'll help you!