Updated: I'm one of the 10 finalists for the Not Mom of the Year Contest. Could you pretty please vote for me? Go here to vote.
Last Monday, I joined in with The Mommyologist and Life Without Pink for their Not Mom of the Year Contest. In doing so, I wasn't saying Oh, look at me, I'm the worst mom in the world and I'm proud of it! My point, that soooo many of you agreed with I totally love you, was that we all probably have this ideal in our heads of what "Mom of the Year" looks like. And none of us can really live up to that. And so, we are Not Moms of the Year. We're REAL moms.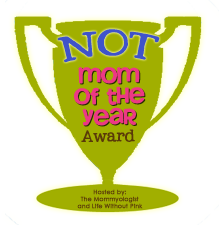 Thank you for making this my most-commented on ever post here(you know, with the exception of some giveaway posts and the day that I was featured on SITS…but the most commented on "regular" post). I'm going to join in with Kerri's Klutter for her Comment Love Letters this week(even though her linky doesn't go up until Tuesday) so that I can share bits and pieces of some of the comments that the post received- because I think they can make us all feel better about not being able to live up to some impossible standard of Mom of the Year.
If you missed my Not Mom of the year post, you can check it out HERE.
Dear Shell, sweetheart, you come sit right over here by me. I'm quite possibly the other bookend to your not mom of the year! This makes me feel like I'm really more in the "normal" category than I thought. I love when bloggers write about the real side of motherhood.
Don't tell anyone, but my kids had ice cream for dinner last night, I was too tired. Shell, we sound so much alike! Can you imagine if we lived near each other? Our naked kids could play in the mud together and popsicles for snacks (and maybe a meal or two). I think we could be very good friends. And our kids could run around the house near naked together… Love the very thought! You know what? The two of us are obviously identical souls separated at birth. I kept wondering how you'd been spying on me while describing your own "Not Mom of the Year" antics.
And your description of Mom of the Year? Total motherbitch. I wouldn't be able to put up with her for one second!! You know the Mother of the Year doesn't exist right? She's just a better liar. eff mom of the year! Mom of the Year? Isn't that a little statue made out of some non-recycleable material and only shows up in the stores around April just in time for Mother's Day? If your description of Mom of the Year exists, I guarantee I wouldn't like her!
Mom of the year also has an extra 30 minutes a day because she doesn't pee, poop or sweat. Mom of the Year does not take into account the fact that kids are a major challenge. Mom of the year only exists where Kid of the Year does… in our imagination! LOL Lol, those kids of the "Mom of the Year?…… yeah, they grow up to be serial killers….
I think most mom's of the year are Stepford Wives incognito! that mom of the year sounds boring and needs a romp in thesack. I think mom of the year has about 2 weeks left before she goes crazy. It would be hard being so perfect all the time. Mommy of the year sounds like one hellatiously exhausted lady. If she does exist, she deserves a nap. That mom of the year? I'd like to punch her in the face.
It would such a drag to be perfect everyday. And then what would you blog about and who would want to be your friend?? Ive never met a mom of the year…I think its a myth…like bigfoot If there is anyone person that does all of those things, well she is probably lying. Or needs to be shot so the rest of us don't look bad. Cause that other person isn't real and if she is I'm gonna kick her a$$!!!
If Mom of the Year really exists, she's probably got her own secrets anyway. A closet alcoholic or something. No Mom is that perfect. i'm a little frightened of your mom of the year. she sounds.. repressed. like one day, she's going to be in the middle of making brownies and there's going to be this little snapping sound and her eyes are going to get all cold and soulless. and before you know it, she's stolen some jacked-up truck and drives it through the front wall of the department store.
I think we all do the best we can and at the end of the day, if the kids are fed, mostly clean and clothed and know that they are loved, then we all get to be "mom of the year"! I'm a good mom but far from perfect. The kids are happy though and that is what really matters. The cool thing about Mom of the year, I think the kids get to nominate and it sounds like you are doing a fabulous job!!
I say as long as people do good by their children, love them, teach them good things, take care of them ect, they are wonderful. Keep up the great work. Your kids are learning that they are wonderful the way they are. They are loved and valued more than activities. They are learning to be together as a family unit.
You are the perfect mom for your boys and that's all that matters! REAL moms are the best moms! 🙂 In my view we are ALL Moms of the year, because we are real, we love our children and they love us just the way we are. And, then like you said, – you just love them – and that's when you really become mom of the year – when you love them when they are so stinkin' unlovable! And still encourage them!
Love,
The most fabulous readers in the blogosphere
P.S. Thank God for an admitted occasional spanker! No one ever talks about it, but sometimes, you just gotta whack!