If you need more info about Pour Your Heart Out, see
THIS
post.
But, really, it's anything that YOU consider pouring your heart out.
Be sure to check out some of the links- you will find some amazing stories out there.
Again, just a brief reminder that everyone linking is pouring their hearts out and we should all be respectful in our comments. 😉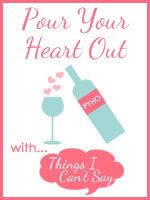 *****
Last week, I told you how I believe that some of my crazier moves happened to lead me to Hubs. Really, if I hadn't moved when I did, I don't know that we would have met.
We have to laugh at the path that we took to get to each other.
It's all about timing.
If we had met in high school, we would have hated each other.
I was two years ahead of him in school(though I'm just slightly over a year older than he is). So, I doubt as a senior, I would have looked at a sophomore boy.
He thinks I would have- because he was one of those "voted best looking" guys. No kidding- there's pics in his yearbooks to prove it, with the dorky "best-looking" tag on them, cheesy pose included.
But, speaking of dorky, I was a nerd. In all the nerd classes and not interested in the things that Hubs did then- like sports.
He was a soccer God.
I was a good little girl who was the president/vp/whatever of every freaking club there was.
And he…got suspended from school for mooning the girls' soccer team.
Definitely wouldn't have looked twice at each other.
Fast forward a few years.
My first year of teaching….at the middle school where Hubs attended back in the day, in the small town where he was living then, working with the sister of one of Hubs' best friends.
October comes: co-worker wants to set me up with a friend of her brother's…but I am in looooooooooooove with a marine and don't want to meet anyone else.
November comes: I have to take this class called "effective teacher training"- a requirement for first year teachers and people who want to be substitutes. Show up the first morning. Hubs doesn't…because he sleeps late and decides he doesn't want to be a sub anyway and skips the class, though he'd signed up and paid for it already.
February: get together at coworker's house with her brother's friends. I am a no-show because I was busy welcoming back my marine.
June: coworker's wedding. Again, I am a no-show because I just got engaged and want to spend the weekend celebrating.
All those chances when Hubs and I could have met.
But, it was the wrong time.
We were at different places in our lives.
We probably wouldn't have even looked twice at each other.
Instead, we met at a point in our lives when neither of us was in a relationship and neither of us was looking for one. And so, we became great friends first. But, that's a story for another time.
So, I'll just say that we tend to want things to happen on our time schedule aka right now. But, sometimes we have to wait for the timing to be right and then things just fall into place.
Please don't forget to vote for Mason again today. You can vote once every 24 hours per computer. The contest ends on Friday at 5pm EST. Thank you all so much for helping out! Vote HERE