Welcome to Pour Your Heart Out- if you need more info on how to participate, check out
THIS
post. But it's personal- it's what YOU think is pouring your heart out. Please grab the PYHO button or link back in your post if you are participating.
Again, just a brief reminder that everyone linking is pouring their hearts out and we should all be respectful in our comments. 😉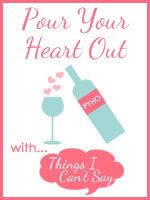 Yes, it's true: I suck as a soccer mom.
When the skies suddenly turned pitch black at 5:30 last night, I did a little cheer and thought no soccer practice for us!
But, it's not really that I hate soccer. Hubs never would have married me if I'd hated soccer.
And it's not really my hatred of getting eaten alive by bugs at the field. Or even how practice throws off our usual early bedtime routine. It's not even how crabby my boys are the next day.
No, it's not any of those. Those would be rational.
What bothers me stems from one of my biggest fears as a mom.
The fear that one of my children will be taken.
Stolen, kidnapped, never to be seen alive again.
Because all it takes is to lose sight of a child for just a minute and they could be gone. I'm sure you've heard the same horror stories I have.
Yeah, sure, I've been known to joke when my kids are in a mood that no one would want them anyway or that they are so rotten that someone would give them back…. but I'm joking.
The thought of any of them disappearing forever terrifies me.
And while I can say that their practice is held in a good neighborhood and there are caring people all around and we live in a small town…. kids disappear from places like that, too.
My boys are usually in three different places in the soccer complex. One or two on the playground and one or two on the fields- different fields. It just depends on who has practice that night.
Trying to keep track of all three, when they are spread out… because of course they aren't practicing right next to each other or practicing right beside the playground…. that would be too easy…. trying to keep track of them like that makes my heart race.
I'm constantly doing a headcount. 1….2….where's ? oh, there he is….3….1….2…3…
Sure, there are other parents around and the boys have coaches, but I can't assume that they are going to pay attention to MY kids. They are paying attention to their own or, in the case of the coaches, trying to coach the rest of the team.
So, it falls to me.
And I breathe a huge sigh of relief when it's time for us to leave and I can walk out with all three of my boys. Even if I'm wishing for some sort of sound barrier between their whining and the driver's seat so I don't have to hear it on the drive home. Even their whining is a good thing if it means I have all three.
The soccer field is not the only place where I feel this fear. At festivals, parades, malls, playgrounds, any crowded place, sometimes even in my own backyard, I feel it. I'm watching to see where my kids are.
But, it seems like I can keep my kids closer to me and closer to each other and therefore easier to watch everywhere else but on the soccer fields.
I don't know how I'd live with it if one of my kids went missing.
I don't hover over their every move because I do believe in giving them room to play, but…. I DO like being able to see them.
And so, the soccer field will continue to be a source of anxiety for me. I just want to keep my kids safe.