If you need more info about Pour Your Heart Out, see
THIS
post.
But, really, it's anything that YOU consider pouring your heart out.
Be sure to check out some of the links- you will find some amazing stories out there.
Again, just a brief reminder that everyone linking is pouring their hearts out and we should all be respectful in our comments. 😉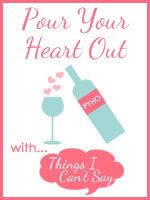 When your child has problems being able to understand things the way other kids do, it's so heartbreaking.
You want to be able to explain. You want them to "get it."
But, they can't.
My four year-old thinks differently than "normal" kids. There are things he doesn't "get." The world is black and white to him: for instance, in his world, there are no shades of "bad." Bad is bad. A toy stolen away from someone who was playing with it is equally as bad as a hit or a bite.
There is no "worse" to him. So, if he sees the reprimands differ so much, he doesn't understand why. But, he will take it personally. If he and another child were both "bad," to his eyes, they should both get the same punishment. Not one more harsh than another.
It's a bit of an oxymoron, because he can't understand degrees of "bad" or "good," but he will notice if someone isn't as nice to him as they are to another child. And he takes it personally- that it is not his action that someone doesn't like, but him. And he cries. And then I cry.
I do not expect everything that he does wrong to be excused because, "oh, he doesn't understand, let's let him get away with murder."
We do have to work to teach him. But, it has to be in small steps, in ways that he can understand.
Some might say that this approach isn't preparing him for real life. That exceptions will not always be made and he needs to deal with it. To this I say, he's four and that is why there is such a thing as "special needs." Their needs are special, different from other children's needs.
You can't just say deal with it, do what the other kids are doing.
It would be like if I dropped your non-swimming child into the deep end of the pool and said "Swim. The other kids can do it." And then sneered down at your sinking child instead of reaching out to keep them from drowning.
You don't hold the child who can't swim to the same standards you do the child who can. You let them start in the shallow end. You let them use swimmies. You let them hold on to the side. You understand when they go out too far and grab for you in panic. You know that jumping off the diving board into the deep end isn't something that will happen that first day. You accept that it is going to be a process.
Even as you look across the pool and see all the fun that the other kids are having, the ease with which they swim back and forth and play. Even as you wish you could say, "Just swim. The other kids can. They're your age. Just swim!"
You can't.
You have to take each child where they are and work with them to get them to understand.
It's not fair to treat them differently, you still say? Well, it's NOT FAIR that my son has the struggles he has, either.