Please note that this is the Pour Your Heart Out linky. If you are looking for the Summer Fun link up, please go
HERE
.
Welcome to Pour Your Heart Out- if you need more info on how to participate, check out THIS post. But it's personal- it's what YOU think is pouring your heart out. Please grab the PYHO button or link back in your post if you are participating.
Again, just a brief reminder that everyone linking is pouring their hearts out and we should all be respectful in our comments. 😉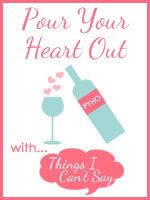 New button by Jess at The Frilly Coconut: it matches the brand new look she is working on for my blog!
My 5 year-old has lead poisoning. Though his numbers are falling, his lead levels are still high. He needs to have routine blood draws to monitor his levels. Because we know that his levels are high, this is no little and quick finger stick: he needs to have a draw from his arm to get more blood to accurately get a reading. These draws are always stressful and painful. I realize that what we go through is nothing in comparison to other families, but it doesn't make it any easier at the time.
Though the following words don't mean anything to him now, I imagine that this is how I would explain these blood draws to my son.
Usually, they let you sit in my lap. I wrap my arms around your body and one of your arms while a nurse takes the arm they need and another wields a needle.
I lean down toward your ear and whisper words of comfort that aren't going to help, but somehow I can't stop myself. I never tell you that it won't hurt because I won't lie to you. But instead I plead with you to stay still so that it can be over quickly. I tell you over and over that I love you and I just want you to be all better.
When the time comes, I wrap both of my legs around yours. The goal is to keep you as still as possible, even though I know that you are going to fight.
And it's terrible. The pain comes and you scream because they are hurting you. But, your little body eventually stops fighting and you collapse in exhaustion against me.
I thought that was hard.
But this last time you needed your blood drawn, the nurse shook her head at me when I tried to put you in my lap.
"He needs to sit up on the table," she said.
And so I lifted you up, even though you are more than capable of climbing up on your own.
I stood close, in disbelief that she really thought this was going to work. She tells me I should help hold you.
I move closer and put my arms around you. You bury your head in my shoulder, but it's the wrong shoulder, the one facing the needle.
The needle goes into your tiny little vein, the one the nurse insisted was fine, even though I told her we always had better luck in your other arm.
You scream. And fight.
Instead of being able to relax back into me, you lean your body backwards. I try to hold you still, but your body has gone completely rigid.
Your cry is heartbreaking. I know that you are in pain. That you are scared. That you don't understand why this is happening to you, why I would let someone hurt you so much.
I give a fleeting thought to the children out in the waiting room with their parents. Your cries are frightening. I bet those kids want to run outside because they think that whatever is happening to you will happen to them if they come back here. But it's only a fleeting thought because those kids out there aren't you and they don't have to go through this.
This is taking longer than normal. And my eyes start to fill with tears to match yours.
Your tears and screams aren't getting the pain to stop, so you start to cry out.
"I want to go home! I just want to go home!"
"I know, baby, I know. Hold still and we can go home really soon," I whisper.
"You don't love me any more! You don't!"
And my heart breaks and tears flow fast down my face as I pull you close against my body so you can't see them.
"I love you. I love you so much. Mommy loves you," I repeat, like that will somehow make things better.
You gently pat my back, like you are trying to comfort me, even as you continue to cry.
It's over, but only because your vein blew. The nurse starts to leave the room in a huff, saying she doesn't know if she has enough of your blood.
Thinking you are all done, you say to her, through your sobs, "Thank you."
That thank you is my undoing. Even more than your tears and screams and yes, even more than you saying that you don't love me anymore.
Because those two little words, they show your sweet heart. That even though someone was hurting you, even though you didn't understand, you still say "thank you" to whoever draws your blood. After every single blood draw for the past two years.
And I hate that you have had to go through all this. I hate that I don't really know when it's going to stop. I hate that you have to be hurt. I hate that you have it harder than a lot of other little boys your age. I hate that I can't fix things for you. I just want to make it all better for you. And I can't.
The nurse comes back in and I tense up, holding you tighter. I don't know what I will do if she says she needs more of your blood. Let her do it because it needs to be done? Or have to come back another time and start all over again? Please God, I pray, let it be enough.
She tells us she has enough blood and that we can go. I'm prepared to carry you out of the room, though you are past the stage where you are carried unless you are fast asleep.
But, you slide down on your own and head for the door, still crying a little.
I follow close behind and gently take your free hand, not the one that you are cradling close to your body.
You squeeze my hand and I try to blink back more tears.
I want to promise you that it will never happen again, but I know that we'll be back again.
Please visit at least the linker before and after you.